History-Making Male Superbowl Cheerleader Tells His Story in Moving Interview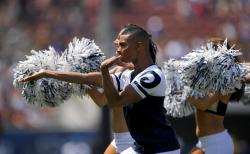 As EDGE reported in advance of the Superbowl, this year's edition of the long-running American sports tradition featured a history-making twist: It was the first time in the event's half-century-plus annals that male cheerleaders were there on the sidelines, exhorting their team toward glory.
Although Napoleon Jinnies and Quinton Peron saw their team, the Los Angeles Rams, lose to the New England Patriots, the very fact they were there spoke volumes about how far the all-American sport has progressed. Now, in a moving interview published at Refinery29, Jinnies reveals how he refused to let high school bullying stand in his way, and how the usually competitive world of dance did not taint his instant friendship with fellow Rams male cheerleader Peron.
Jinnies, speaking to Thatiana Diaz, started at the start, remembering his boyhood as the youngest of three sons. Like Jinnies, his big brothers were athletes; unlike him, they went in for sports and martial arts over the physical demands of dance. Of his father, Jinnies recollected, "I remember one day he asked me, 'Are you sure you don't want to finish karate or anything like that?' But he eventually came around."
AS he progressed through middle school and into high school, Jinnies recounted, "I was always the only boy on the dance team," and that led to bullying that was severe enough that — like many LGBTQ youths — Jinnies was reluctant to stay in school. Rather than drop out, he transferred to a different high school, moving to Orange County to do so. After graduating, Jinnies continued to dance as a college student.
While working at Disneyland, Jinnies overheard some female fellow dancers talking about tryouts for the football team they were with as professional cheerleaders. When one of them suggested Jinnies try out, he said, his response was "Ok."
That's when he first met Quinton Peron, who also had decided to go for a spot on the cheerleading team.
"There was an instant understanding of the situation for both of us," Jinnies said. "For us, it was this excitement that there were two boys there. We went into this holding hands."
From there the two made history, both being accepted into the team's cheerleading squad and making history as the first two male cheerleaders on an NFL team. Their success immediately opened the way for a third male cheerleader, Jesse Hernandez, who is now with the New Orleans Saints.
They've been teammates ever since on the cheerleading squad, from that initial audition to the thrill of making the cut to the apprehension of "Wondering what the reaction from the public was going to be" once they were accepted into the ranks of the cheerleaders.
"But the L.A community has shown us nothing but love," Jinnies added. "Even at the Super Bowl, we'd be in the elevator together with the football players, and the players would say, 'My girlfriend is obsessed with you — we love you.' "
Jinnies went on to share that his athletic exertions on the field are not his only contribution to the culture at large. He's also become something of a makeup guru.
"I was getting so many questions about my makeup on Instagram, so I started a YouTube Channel," he said. "There's instant gratification when someone messages me or says they're going to try a tip and it works out. I know how makeup can make someone feel, so I love teaching it."
Reflecting on how fate, fortune, pluck, and hard work have brought him to his current pinnacle, Jinnies mused, "Who knew that we would not only make history — especially during Black History month in February — but that we would get to inspire the world?
"It makes me cry every time I think about it."
Comments on Facebook