Watch: Miley Cyrus Confirmed as Guest Judge for 'RuPaul's Drag Race' Season 11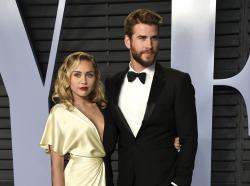 The upcoming new season of "RuPaul's Drag Race" just got a dose of star power.

Entertainment Weekly is reporting Miley Cyrus has been confirmed as a guest judge for the highly anticipated Season 11. The singer took to Instagram Tuesday that she'll be the special guest judge for the show's first episode, marking the third time in a row a pop star kicks off a new season. Season 9 featured Lady Gaga while Season 10 featured Christina Aguilera.

The clip shared by Cyrus finds the "Malibu" songstress walking down the runway before asking, "Are you freaking out? Because I'm freaking out!"





EW reports Cyrus will go undercover in the workroom as the 15 queens work on their first challenge — constructing looks made from items from past "Drag Race" competitors.

"Drag Race" Season 11 starts Feb. 28 on VH1. Watch the Cyrus teaser below.



Comments on Facebook