Men In Black International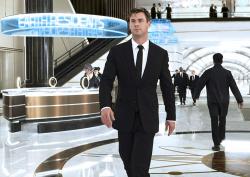 Available digitally today!

- - -

The joke's already been made that "Men in Black: International" is itself a neuralyzer, the small device used by the titular organization in order to delete people's memories. It's an easy joke to make, considering how forgettable the latest cash-grab in this franchise is, and it seems humorously appropriate to use a redundant witticism to describe an equally mundane movie.

Gruelingly generic in every way, "Men in Black: International" is a structural, by-the-motions example of banal Hollywood consumerism. The film's familiar storyline is passed off as fresh material when really the only difference is that this time there are black-suited, alien-fighting agents that audiences are already accustomed to. Plus, with two Marvel Cinematic Universe actors assuming the main roles this time around, mainstream audiences are even more likely to fall for this movie hook, line, and sinker.

The actors in question are Chris Hemsworth and Tessa Thompson, who both appeared in "Thor: Ragnarok" and "Avengers: Endgame," but aside from their name-brand recognition, there is sadly a limited amount of charm and chemistry to their pairing. In this new iteration, Thompson plays Agent M, a newbie to the MiB agency who is witty, determined and level-headed.

This makes her a perfect foil to Hemsworth's recklessly free-wheeling Agent H, or so one would think. Unlike Will Smith and Tommy Lee Jones, there is insufficient comic and emotional harmony between Hemsworth and Thompson to establish them as a dynamic duo worth spending time with. It's partly because of the wooden dialogue they have to work with, but it's primarily due to the movie's paint-by-numbers execution of tired tropes we've witnessed time and time again.

From the get-go, "Men in Black: International" proves it has nothing unique to offer. It's a slave to story strokes that move the narrative forward with zero momentum, mainly because these beats have been pummeled into pop cinema productions for decades. The first act introductions. The second act action set pieces. The third act bad guy "reveal." It's all so obvious and overdone, and it's an absolute slog to get through as we weave through the motions of something that is so generic you'd expect CVS to sell it over the counter.

We even get the annoying sidekick character, embodied here by a tiny alien named Pawny, voiced by Kumail Nanjiani. Pawny, upon his introduction, doesn't know what the word "agent" means, yet he's able to throw out wise-ass quips throughout the whole movie that include words and phrases like "ass clown" and "oh, shit!" I spent the whole movie hoping somebody would step on the little bastard.

"Men in Black: International" is a mindless entertainment in that it doesn't have a mind of its own. Even as I write about this movie, I find it slowly slipping away from my memory like water passing through a colander. Make all the neuralyzer jokes you want. This movie doesn't deserve original material, as it doesn't offer any itself.
Men in Black: International
The Men in Black have expanded to cover the globe but so have the villains of the universe. To keep everyone safe, decorated Agent H and determined rookie M join forces -- an unlikely pairing that just might work. When aliens that can take the form of any human arrive on Earth, H and M embark on a globe-trotting adventure to save the agency -- and ultimately the world -- from their mischievous plans.
Info
Runtime :: 115 mins
Release Date :: Jun 14, 2019
Language :: Silent
Country :: United Kingdom

Cast
Agent H :: Chris Hemsworth
Agent M :: Tessa Thompson
Voice of Pawny :: Kumail Nanjiani
Riza :: Rebecca Ferguson
Agent C :: Rafe Spall
Agent O :: Emma Thompson
Agent High T :: Liam Neeson
Alien Twin :: Laurent Bourgeois
Alien Twin :: Larry Bourgeois
Vungus/Nasr/Bassam :: Kayvan Novak
Luca Brasi :: Spencer Wilding
Men in Black No. 1 :: Aaron Serotsky
Young Molly :: Mandeiya Flory
FBI HR Guy :: Matthew Bates
CIA Recruiter :: Sartaj Garewal
Guy :: Stephen Wight
Cabbie :: Brian Silliman
Jimmy the Alien :: John Sousa
Lead MIB Agent :: Jeff Kim
MIB Lead Interrogator :: Michael Adams
Veteran MIB Agent :: Mike Capozzola
Nerlene :: Annie Burkin
Freddie the Alien :: Andrew Greenough

Crew
Director :: F. Gray
Screenwriter :: Art Marcum
Screenwriter :: Matt Holloway
Producer :: Walter Parkes
Producer :: Laurie MacDonald
Executive Producer :: Steven Spielberg
Executive Producer :: Edward Cheng
Executive Producer :: Howard Chen
Executive Producer :: E. Bennett Walsh
Executive Producer :: Riyoko Tanaka
Executive Producer :: David Beaubaire
Executive Producer :: Barry Sonnenfeld
Cinematographer :: Stuart Dryburgh
Film Editor :: Christian Wagner
Film Editor :: Zene Baker
Film Editor :: Matthew Willard
Original Music :: Danny Elfman
Original Music :: Chris Bacon
Production Design :: Charles Wood
Supervising Art Direction :: Tom Brown
Art Director :: Julian Ashby
Art Director :: David Doran
Art Director :: Crissy Howes
Art Director :: Mark Swain
Art Director :: Susan Whitaker
Art Director :: Steve Wong
Set Decoration :: John Bush
Costume Designer :: Penny Rose
Casting :: David Rubin
Casting :: Reg Poerscout-Edgerton

Comments on Facebook