After six years of helping the Obama administration determine the nation's food policy, former White House chef and food policy adviser Sam Kass will now report on it.
Efforts are underway to save the green chile that's important to traditional New Mexican fare as labor shortages, a previous severe drought and competition from China, India and Mexico endanger its growth in the state.
The Food and Drug Administration is banning imports of some fresh cilantro from Puebla, Mexico, after a government investigation found human feces and toilet paper in growing fields there.
Head to western Massachusetts for a Gilded Age dream any time of year. From rolling orchards and farm-to-table to cuisine to an unparalleled cultural scene, the Berkshires is the perfect D.I.Y. getaway for a true sense of the American spirit.
Stephen Mosher gives you some tips on staying fit in the summer, while still enjoying delicious meals.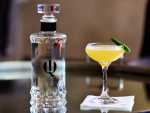 EDGE offers three unique tequila recipes from our friends in Austin, Texas.
The Dairy Queen in downtown Moorhead has been thumbing its nose at corporate HQ pretty much since it opened in 1949, despite some efforts from the home office to have the store mind its Ds and Qs.
New York's popular Union Square Cafe has found a new home in Manhattan. The restaurant announced last summer that it would have to move because of rising rent.
A Northern California woman is offering a sweet deal on her 1906 Craftsman home in Jackson. She's trading it for a great dessert.
The owner of a Maine diner says she's not sorry for yelling at a 21-month-old child for crying in her restaurant because it got the girl to be quiet.