Resident Evil: Extinction
You've played the games and you've seen the movies. Now the third installment of the "Resident Evil" franchise hits the small screen in Resident Evil: Extinction. The world is covered in teh T-Virus which means obnoxious zombies everywhere. And what is the Umbrella corporation trying to do? Tame the zombies with a pseudo cure? Flanking out the plot is Mila Jovavitch with the remnants of humanity that remains on the surface.

Action, fighting, wuuuuv and zombies. What more could you want in a science-fiction movie based on a video game? RE:E brings a grisly and exciting look at the future after a major, post-apocolyptic breakout. Creepy!

If you're a fan of the movie or simply a fan of zombies, you'll appreciate the special features that aid to this DVD's experience. There's deleted scenes and trailers, including a trailer for the new "Resident Evil" CG movie. Additional commentary from the director, writer and producer. There is also the DVD contains several making-of featurettes such as Alice Vision: Preproduction, "The Big Bang: Shooting RE:E," Bigger, faster, stronger: "The Undead Evolving' and "Vegas Visual Effects: Miniatures." Each explores a different aspect of RE:E and how they have changed from the previous entries in the series (and where they may go from here!). I greatly enjoyed the movie and its features, and recommend it to anybody looking for a distraction.
Resident Evil: Extinction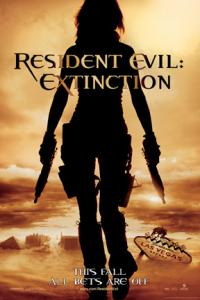 Info
Runtime :: 94 mins
Release Date :: Sep 21, 2007
Language :: English
Country :: United States

Aron is a contributor to Edge, focusing on critiques and local events. He is an attorney in Philadelphia.
Comments on Facebook