Bridesmaids
For some reason, women in films never get to behave badly. The bad behavior is almost always left solely to the men. Whenever a movie comes along where the women steal the reins away it always creates a stir. "Sex and the City" was always being caught up in this mentality, because the fabulous four weren't playing into the normal female stereotypes.

Well, get ready because "Bridesmaids" is about to create a stir unlike anything since "The Hangover" came out. These women behave badly and don't apologize for it.

Kristen Wiig stars as Annie, a likeable but hapless loser. She's been on a downward spiral since her bakery closed. Already feeling down on herself, living with a British brother and sister pair of terrors, and seeing a guy who is using her for nightly pleasures, Annie is hit with the biggest assault of them all when her only friend gets engaged. Suddenly, she is thrust in a world with a rag tag crew of women she doesn't know in an environment is not equipped socially or financially to handle.

Wiig has assembled an all-star cast of television comedienne's including Melissa McCarthy ("Samantha Who," "Gilmore Girls"), Ellie Kempler ("The Office"), and Wendi McLendon-Covey ("Reno 911") and Maya Rudolph as the blushing bride. Joining in on the fun is the always-reliable Rose Byrne, who proved her comedy chops in "Get Him to the Greek."

McCarthy plays against type as a tomboy who has no problem going after what she wants. She garners the some of the most genuine laughs. Some of the fun with the film is from watching the easy chemistry between the women. Even Wiig and Byrne, who sizzle as rivals vying to plan the wedding, light up the screen when they are together.

What's most interesting, and perhaps is the most intelligent thing writers Wiig and partner Annie Mumolo have done is that to have taken almost every cliché known to the genre--the sexually inexperienced but curious girl and the love interest who is too good to exist in real life are both on full display here--and make them work. Had the guys from "The Hangover" tried to get away with some of the antics these ladies do, no one would have been laughing. It's not often when the audience is consistently laughing so hard that dialogue is missed on screen. Wiig and her cohorts are able to go toe-to-toe with "The Hangover" gang in terms of both raunchiness and outrageousness.

Along with writing the film, Wiig gets her first chance to move into the spotlight after appearing in either minor roles or low rent films. Films like "Adventureland," "MacGruber," and "Knocked Up" haven't given the actress much to showcase in the past. But having a willing to do anything attitude, the "Saturday Night Live" star is one of the biggest assets the film has going for it.
However her character, unfortunately, is saddled with so much baggage that the film dovetails into the melodramatic terrorism for a moment before correcting itself in the closing minutes. Wiig does her best to make Annie sympathetic, but she is wallowing in self-pity at times that it's hard to root for her at times--especially when the other girls aren't outwardly wicked.

Director Paul Feig could have trimmed a few minutes from the film. Some of the scenes go on too long, again also making Annie just look more and more pathetic. By the end of the film she is only moderately likeable. The running time does keep in line with the longer running time that some of producer Judd Apatow's other films have kept, but a tighter third act would have kept the laughs coming and sidestepped a lull.

"Bridesmaids" is hitting right during wedding season, so it is guaranteed to have a built-in audience. But people may not be going in expecting to see a laugh filled, female version of "The Hangover." Whereas those guys only had to plan a bachelor party, these ladies find laughs all along the way to the altar. Make sure to RSVP to this comedy because it's going to be the event all your girl friends will talk about afterwards.
Bridesmaids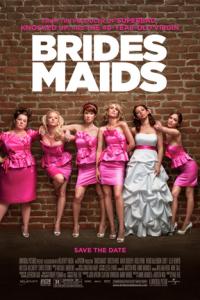 Info
Runtime :: 125 mins
Release Date :: May 13, 2011
Language :: English
Country :: United States

Comments on Facebook