Step Up Revolution
Let's just get this out of the way. No one goes to a "Step Up" movie for the plot. Or the acting. Or realism. No. We go for the freaking dancing, the banging music, and the hot bodies. And perhaps we even go to laugh and applaud at the ridiculous dialogue that spews, mumbles, and trips out of the mouths of the actors.

Oh, and we also go to learn things like the fact that apparently our bodies make a deafening "whooshing" sound whenever we do a split or whiplash-induced back bend whilst dancing to a throbbing techno-beat. It's true! We also do it in slow motion.

All of this is checked off and catalogued in the fourth installment of the enduring franchise. "Step Up: Revolution" moves the action from the inner-city to the beaches of Miami adding color and punch to a film series that threatened to continually repeat itself, not that it isn't still doing a bit of that.
Here we have Sean (delicious Ryan Guzman) and his bestie Eddy (Misha Gabriel) who work as waiters in a hotel restaurant owned by the Anderson Corporation. The two are a part of something called "The Mob," a group of dancers and artists who orchestrate unbelievably elaborate flash-mobs that take place all over the city. After an electrifying opening number on Ocean Drive complete with slick and shiny sports cars that rise and lift like roaring stallions, the two boys discuss where their next flash-mob will take place. Why do they do it? Well there's a contest with prize money, of course. I mean, what dance movie doesn't have some sort of contest?

Or some enduring space that is threatened into extinction?

Here, there is a section of town called Spring Valley where not only Sean lives, but his entire extended family of friends and neighbors also make their lives. But a "ruthless" developer simply named Mr. Anderson (Peter Gallagher) wants to tear it all down for a hotel project that would displace thousands of people. And they can't have that. The problem is that the developer's daughter Emily ("So You Think You Can Dance's" Kathryn McCormick) has found her way into Sean's heart. Not only that, Emily just wants to dance - much to her daddy's chagrin. But being fair, he tells her if she can become a professional dancer by the end of summer, he'll buy into her dreams. You hear that?

Become a professional dancer.

By the end of summer.

Anyway, Emily has to audition for an intern spot at WinWood, a world-class dance company headed by a woman named Olivia played by choreographer and SYTYCD judge Mia Michaels. Looking either half-asleep or a bit drunk, Michaels is one of the film's high points for the sheer fact that she is - entertainingly - not an actress.

But I digress.

Emily of course has to work on her end-of-summer audition and is told she has to be more original in her dancing. So she asks to be a part of The Mob so she can open herself up to new styles. The Mob, however, has no idea she is the evil developer's daughter and upon Sean's insistence, she doesn't reveal this little fact, a fact that will come back to haunt her later in the film. Shocking, I know.

But that's really not what we are at this film to see. We are here to see the dancing and the many flash-mobs this crew puts on. And each one is more incredible than the last. While the first few installments of this series had good dancing, this is like those movies on steroids, crack, and hallucinogens. And it's fantastic. There is a snazzy routine in a restaurant, an amazingly stylized number in the lobby of an office building, a beautiful one in a museum, a gorgeous duet against a sunset, and an extended finale that is so crazy, infectious, impressive, and over-the-top you wished it lasted twenty more minutes than it does.
And that's the thing. If you love dance, I whole-heartedly recommend this movie. You will not be disappointed and the music they chose just adds to the experience. Even the contemporary dance between Sean and Emily (by twice Emmy-nominated Travis Wall) uses one of the most gorgeous pieces of music (and a personal favorite) by a group called The Cinematic Orchestra.

The cinematography by someone simply named "Crash" is superb and there is a gloss and color to the production design by Carlos A. Menendez that is dazzling. And as mentioned, the choreography by Jamal Sims, Travis Wall, Christopher Scott, and Jesus Chuck Maldonado is jaw-dropping and the real star of the show.

The problem is everything in-between. While Guzman is a decent actor (saddled with a one-note character) and is a joy to gaze at, he is saddled (as are all the other actors) by a script that is so cliché and earnest it just seems naive. I found myself predicting what the characters would say before they would say it. Other times, I was thrilled with the cheesiness of what came out of their mouths. I go back to Michaels as the dance academy instructor.
There is one scene where she sidles up behind Emily and whispers some advice in her ear that is staged by director Scott Speers in such a way that it becomes riotously creepy. McCormick is a dancer not an actress, but what she lacks in the acting department, she makes up for in screen presence and dance skills. (Although whenever she stopped moving, she seemed to be posing in that dancer-y way.) Gallagher looks mortified with his thankless role which must have been accepted in order to keep up his SAG Pension and Health Plan benefits.

My hope is that in the next (and inevitable) follow-up, the filmmakers will really pay attention to the script. Give us a core emotional story we haven't seen a hundred times before. Find a cast that can truly act (in this industry, they are plenty that can dance and act at the same time) and give us something to cheer about. The spectacle of the dancing is certainly something that makes us want to stand on our feet, but how much more awesome would it be if we had characters and situations we truly became invested in and cared about. This franchise could be true gold. Instead, it will simply be praised for its choreography - which is fine and deserved - but it could be so much more. Hopefully in the fifth installment, the filmmakers themselves will Step Up. That's my challenge to them.
Step Up Revolution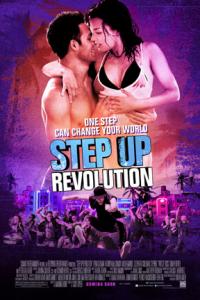 Info
Runtime :: 98 mins
Release Date :: Jul 27, 2012
Language :: English
Country :: United States

Kevin Taft is a screenwriter/critic living in Los Angeles with an unnatural attachment to 'Star Wars' and the desire to be adopted by Steven Spielberg.
Comments on Facebook