Cosmopolis
Writer/director David Cronenberg's leaden adaptation of the 2003 Don DeLillo novel, "Cosmopolis," chronicles a single, cataclysmic day in the privileged life of Eric Packer, a pensive wunderkind with two immediate objectives: staking his entire fortune against the rising value of the yuan and getting a haircut. Supremely indifferent to the needs of others, Eric seeks out the perfect coif while perched in the backseat of a white stretch limousine, blithely snarling Manhattan traffic as he monitors the global economy on a set of futuristic computer screens. Consciously or not, the 28-year-old billionaire, may also be lurching toward oblivion, a victim less of his own callous excesses than of their meaninglessness.

Theoretically, at least, Cronenberg and DeLillo would seem like an ideal artistic pairing, given their shared comfort with discomfort. But the philosophical guts of DeLillo's story mostly eludes Cronenberg's lazy screenplay and claustrophobic camera angles. Perhaps showing too much reverence for DeLillo's stylized dialogue, Cronenberg simply lifts large chunks of it from the novel verbatim, without proper context, so that what excites on the page mostly fizzles when spoken by the game actors who populate "Cosmopolis."
When it comes to the movie's performances, the most laudable, and surprising, achievement belongs to Robert Pattinson, who, in portraying Eric, proves that his acting range is not just limited to embodying supernatural bloodsuckers; he can also play an existential one. Aided immeasurably by his handsome, sharp-featured face, which naturally connotes both vulnerability and danger, Pattinson adds some emotional complexity to the proceedings by summoning a bit of sympathy for the devil.

While the world around him struggles for life's necessities, everyone and everything Eric requires comes to his fortress on wheels, which is surrounded by a vigilant cadre of bodyguards. Safety precautions are particularly important on Eric's current outing, as his enigmatic chief of security Torval (Kevin Durand) keeps reminding him, because there has been a credible threat against his life. Given Eric's obscene wealth and despicable reputation, he apparently is an even more tempting target than the president of the United States, whose nearby motorcade is also helping to slow Manhattan traffic to a crawl.
Capable of running his digital empire from any spot with an internet connection, normal inconveniences associated with time and space do not concern Eric, who seemingly can even summon his cyber-capital vassals at will. Two of them, Shiner (Jay Baruchel) and Michael Chin (Philip Nozuka), pop up separately in the limousine to technobabble with their lordship. Shiner, the slightly older of the two, still looks boyish but has the demeanor of a harried middle-aged man, while Chin, girded by his even greater youth, fears nothing. In fact, the perpetually grinning Chin seems as if he would willingly follow Eric over a cliff, fixated on his data-strewn mobile device all the way down to the splatter.

Like his underlings, Eric was once an unwavering disciple of the free market and its technological innovations, paying no heed to any human costs associated with them. But Eric has begun to lose his faith, along with his sanity, because the yuan's value continues to rise against all economic logic. Finally incapable of feeling secure in the future, Eric confronts the present, which, in the most dramatic way possible, crystallizes outside his tinted windows. Passing by an anti-capitalist protest where someone has self-immolated, Eric is impressed by the conviction it took to light the match.
But, sitting across from him, Vija Kinski (Samantha Morton), his single-minded financial theorist, has another perspective. A steadfast devotee of the new, she tells Eric that turning oneself into a burning corpse has been done before, making it an "ordinary" act unworthy of notice. Still, despite her admonition, Eric appears affected, perhaps for the first time in his life, by something external to himself.

As for Eric's other limousine encounters with women, they are not about enlightenment. In one, he does a straightforward bump and grind with his older, art-dealer mistress (Juliette Binoche), who postcoitally tries to explain to him why it would be reprehensible to buy the Rothko Chapel, only to lock it away in his cavernous apartment. While a second carnal event could be the strangest ménage à trois ever filmed, especially since the participants' genitalia never touch. It primarily involves Eric and his sweaty chief of finance, Jane Melman (Emily Hampshire), who has been pulled into the limousine from her morning jog. As Jane tightly grips a water bottle between her legs, Eric, bent over and gazing intently at her, is receiving a prostate exam from a doctor who makes limousine-calls. Jane and Eric proceed to talk dirty to one another until everyone, but the doctor, is gratified.

The opportunity to visualize such madness likely appealed to the bizarrely-inclined Cronenberg, and, certainly, he executes it well. But while showing off his familiar filmmaking strengths, Cronenberg, disappointingly, ends up turning DeLillo's novel into a cavalcade of the grotesque, with only a few scenes resonating more than viscerally. One of them is the movie's final reckoning between Eric and his would-be assassin (Paul Giamatti), when both men's worlds end with a whimper. It is a thoughtful conclusion that deserves a much better prelude.
Cosmopolis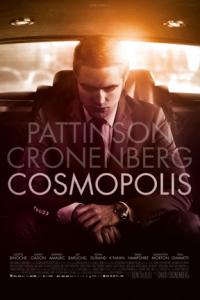 Info
Runtime :: 108 mins
Release Date :: Jun 15, 2012
Language :: English
Country :: Canada

Joseph Pisano is a freelance writer living in New York.
Comments on Facebook