Frankenweenie
Tim Burton's latest stop-motion creation "Frankenweenie" is based on the 1984 short film he made for Disney. In that project, he used real actors and a real dog to tell the story of a boy so upset over the death of his pooch that he goes all Dr. Frankenstein on it and brings it back to life.

Now, close to thirty years later, Burton has fully realized his vision by utilizing the latest stop-motion techniques, filming it in black and white (the sets and puppets were all black and white) and adopting the 3D-format to give it an extra dimension. The result is a cute and clever treat that amuses even though it never truly comes to life.

With a screenplay by John August ("Dark Shadows"), "Frankenweenie" tells the tale of a young boy named Victor Frankenstein (voiced by Charlie Tahan) who lives in the small town of New Holland. Taking place in what appears to be the 60s, New Holland is full of odd and sickly looking inhabitants who all have dark circles around their eyes and names that reflect various classic monster movie characters.
Victor has a dog named Sparky who is his only real friend, so when Sparky is accidentally hit by a car, Victor is undeniably devastated. When his mother (voiced by Catherine O'Hara) casually states, "If I could bring him back, I would," Victor gets the idea to do just that. So up in his attic he concocts a plan to revive his dog via electricity from the nightly thunderstorms that occur in their weird little town. He then digs up his precious Sparky from the Pet Cemetery and begins his experiment.

It's no surprise that his attempt at bringing Sparky to life works, and soon enough he is reunited with his faithful companion. He keeps this little fact from his parents, though, in fear of getting into trouble. Of course, Sparky escapes the house and get into all sorts of shenanigans. Worse still, Victor's classmate Edgar "E" Gore (voiced by "The Middle's" Atticus Shaffer) suspects something is amiss when he spots Sparky around town. He forces Victor to tell him what he did and convinces him to try the experiment on a dead fish.

But that experiment doesn't go exactly as planned and the results are a bit off. What Victor learns from his strange science teacher Mr. Rzykruski (voiced by Martin Landau) is that without love, the experiment would turn into something unexpected. Love, you see, is the key.
Once Victor's other classmates get wind of this and fear their projects for the upcoming Science Fair will pale in comparison to a dead dog brought back to life, things get out of control quickly. Just how out of control is half the fun and thankfully the trailers have kept this part under wraps.

The artistry at work here is readily apparent and the nods to classic monster movies are a delight to watch. The voice work by Burton regulars O'Hara, Landau, Martin Short, Winona Ryder, and Conchata Ferrel (among others) is excellent and the animation is fantastic all around.

The only real flaw in this film is the script by August. With "Dark Shadows," August aimed high and only hit his target a small percentage of the time. That film had comic potential, but often missed the jokes or the jokes that were there were a bit transparent. Here, while it might be considered a children's film, Burton's style and humor tends to appeal to all ages. However, August tends to go for the obvious so that you see jokes or plot points coming a mile away. This makes some of the film feel a bit stale.

On the flip side, August cleverly throws in nods to classic monster movies like "Godzilla," but also acknowledged modern horror classics like "Gremlins."And maybe I'm reading into this, but there was also a reference to the Rankin-Bass stop-motion classics of the 70s. Remember the "Santa Claus is Coming to Town" Christmas Special? And the town baddie was called Burgermeister Meisterburger? Here we have a grouchy next door neighbor named "Mr. Burgermeister" that has a mouth and facial expressions that are a clear reflection of that character. It was a nice and reverential touch to the innovators that came before.

All in all, "Frankenweenie" is cute and at times funny. Could it have been funnier? Yes. Could it have stood a bit more originality? Yes. But it's easy to appreciate the artistry and technique involved, and in that, the movie charms. It won't go down as a classic like "The Nightmare before Christmas" and it isn't as snappy as the recent "Paranorman," but it's a nice addition to Burton's film legacy and an easy way to spend a chilly October night.
Frankenweenie 3D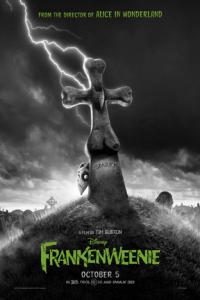 Info
Runtime :: 87 mins
Release Date :: Oct 05, 2012
Language :: English
Country :: United States

Kevin Taft is a screenwriter/critic living in Los Angeles with an unnatural attachment to 'Star Wars' and the desire to be adopted by Steven Spielberg.
Comments on Facebook