The Sessions
Mark O'Brien was diagnosed with polio when he was a child; he survived, but at a severe cost: crippled and unable to move, his head tilted to one side while his body moved in another direction. He spend most of his days in an iron lung - a hulking metallic chamber that encased him - overwhelming him in some ways; but it never seemed to get him down. O'Brien, who died in 1999 at the age of 49, became an acclaimed journalist and poet.

That he was even able to write at all is an achievement: he typed with a pencil in his mouth, one character at a time. His life was the subject of the 1996 Oscar-winning short film, "Breathing Lessons: The Life and Work of Mark O'Brien;" but The Sessions, the feature-length fiction film now in limited release, is based on an article O'Brien wrote entitled "On Seeing a Sex Surrogate," published in 1990 in the literary magazine The Sun. It chronicles one of the more interesting chapters in his life: in 1988, at the age of 38, he decided to lose his virginity.

It wasn't easy: O'Brien hadn't seen his penis for thirty years; nor was human contact much of an option. Most of his time was spent in that iron lung. While college educated - a newsworthy event because he went to class in his iron lung; he had the emotional make-up of a teenager. Early on in the film, he hires a kindly, beautiful young woman to be his caretaker and falls shamelessly in love with her, driving her away. His social awkwardness is only acerbated by his physical limitations. (In real-life O'Brien was 4'7" tall and weighed 60 pounds.) Yet throughout the film, he remains upbeat and determined, addressing his goal of having sex for the first time to his only confidante - a parish priest - played with avuncular charm by William H. Macy - to whom he asked permission.
This makes for comedy; and a good deal of the film is light and funny, with a sit-com surface. No sexual reference is left untouched in the pursuit of a punch line. The unusual subject matter and humorous approach to it make the film appealing - it's a feel-good movie about a not-so-good human condition. It celebrates the survival of the human spirit, in this case telling the story of man seeking to make the most essential of human contacts, and it can be seen as powerful. At the screening I attended, middle-aged audience members embraced the movie with applause; one even commented that it was a far better film than "The Master," this year's critical darling, which she thought was just plain "weird." There really isn't anything weird about "The Sessions."

Yet should there be? Perhaps not weird, but maybe more challenging. It feels to eager-to-please. Director Ben Lewin (who is disabled in real life) wanted to make a television sit-com about being disabled, and do so in an irreverent way. (It was to be called "The Gimp.") The series never materialized - instead he read O'Brien's article and decided to make a feature based on it.

Yet despite its seeming daring subject, the film never loses that sit-com veneer. The laughs are frequent, but easy; and come from a place of making an uncomfortable subject matter palatable to a movie-going public. It's the kind of film that wins awards because it achieves its mission convincingly enough. If only it went the extra mile and didn't strive to be so likable.
The title refers to the six sessions that O'Brien (John Hawkes) has with Cheryl Cohen Greene, a sex surrogate played with no-nonsense manner by Helen Hunt. Never a big fan of the actress, she is surprisingly good, exhibiting a hard shell that hides a vulnerable woman beneath. She also (at age 49) looks great; physically exposing herself with fearlessness that many actresses half her age wouldn't dare.

But the sole reason for seeing the film is Hawkes, a character actor who turned heads with his frightening roles in "Winter's Bone" and "Martha Marcy May Marlene." There's nothing scary about O'Brien: his openness and naiveté approaches the heartbreaking. It becomes apparent that he doesn't fully understand the ramifications of his seeking sexual contact and you fear for him when his emotions take over.

Hawkes' physical performance is a triumph of control: rigid in twisted contortion and speaking in a halting manner, he's dynamic in his stillness. It's the stuff of Oscar nominations, if not the award itself. And he rises above the maudlin nature of Lewin's script. His direction is serviceable at best. In its eagerness to please, "The Sessions" is a crowd-pleaser; but misses the opportunity to tackle issues of disability and sexuality with any depth of feeling. You'll feel good, but the movie evaporates upon leaving the theater.
The Sessions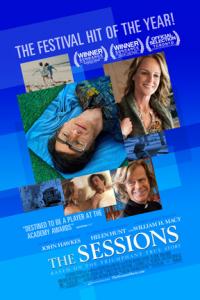 Info
Runtime :: 95 mins
Release Date :: Jan 18, 2013
Language :: English
Country :: United States

Comments on Facebook