Alex Cross
Madea goes procedural in "Alex Cross," a lame attempt by Tyler Perry to crossover to a more mainstream genre in a suspense thriller.

On paper, it probably sounded like a good idea. Tyler is a self-made star whose successful string of broad comedies (featuring his drag doppelganger Madea) has surprised many in Hollywood; now he's started to branch out with more diverse roles. On the plus side, he has an easy charm and likability, though these characteristics would be better suited for a domestic comedy or romance. As this hard-boiled forensic detective, he has the intensity of a Wal-Mart sales associate. And this film, directed by Rob Cohen, plays like a pilot to some forgettable cable series.

The title character is well-known in crime fiction circles as the creation of prolific novelist James Patterson, who has written some dozen novels featuring the detective and who comes across as a 21st century Sherlock Holmes solving crimes in Washington DC. This film, loosely adapted from Patterson's novel "Cross," places the detective in Detroit, where he works in a special unit of the police department with his team, long-time partner and childhood friend Tommy Kane (Edward Burns) and detective Monica Ashe (Rachel Nichols). That Kane and Ashe are having an affair bothers Cross-, but that's the least of his problems when the team is called to investigate a gruesome serial murder in one of the city's more upscale neighborhoods.
That murder is a contract job committed by a mean and very lean psychopath nicknamed Picasso (or The Butcher of Sligo"). Why he named the former has something to do with the charcoal drawing he leaves behind at the crime scene with an imbedded clue as to who the next victim will be. And why he has the latter has to do with the savage brutality of his crime, in which he performs a clumsy variation of a manicure on his drugged female victim that would be right at home in a "Saw" film. That murder becomes a punch line to a grim joke involving fingerprints; but, given the general lack of humor, any attempt at a laugh should be welcome.

Apparently Picasso has a vendetta against Cross, for reasons not fully explained (or I missed them). Whatever. In the role Matthew Fox has physically transformed himself into a scary caricature of a meth addict and acts as the manic "ying" to Tyler's passive "yang." After Picasso murders Cross's pregnant wife (Carmen Ejogo), the fight becomes personal, though Tyler's clearly out of his league as the grieving husband and avenging cop. A big man, he lumbers through the action sequences with little physical finesse. And he confuses earnestness with pathos in the domestic scenes. Whatever emotional resonance the film has rests with Cicily Tyson as his live-in mother. Her character called "Nanna Mama," though, appears to have wandered in from one of Tyler's comedies and feels jarringly out-of-place.
The film has something to do with the redevelopment of downtown Detroit, a city whose dilapidated state is best expressed in the setting for the film's final stand-off: an old Art Deco movie theater used as a carport. Yet despite the timeliness of this theme (seen in the current documentary "Detropia"), it is little more than a plot point. (Much of the film was said to be shot in nearby Cleveland for tax reasons.) If the setting is meant to give the movie some urban grit, it is lost in a generic representation of a metropolis in free-fall.

In fact, there's so little originality to the hackneyed script (by Mark Moss and Kerry Williamson) that it prompted the idea of an "Alex Cross" drinking game. Is Picasso going after Cross' wife? Have a shot. Is the villain a corrupt one-percenter? Drink up. Will Cross take the FBI job and move to DC? Have another. This last plot development sets up the inevitable sequel because there's little doubt that one will be made. Perry has the kind of box office clout that will likely turn a stinker like this into the first of many. Better luck next time.
Alex Cross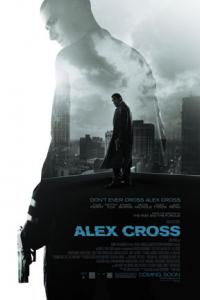 Info
Runtime :: 101 mins
Release Date :: Oct 19, 2012
Language :: English
Country :: United States

Comments on Facebook