21 and Over
"21 and Over" is unique amongst raunchy college comedies in that it is being released in two versions, one for the United States (and likely a good deal of the world) and one specifically tailored for Chinese audiences. The reason for a customized version? Perhaps the frat boy behavior (watch the puke in slow motion!) and parental defiance by Jeff Chang, the film's Chinese/American character, was too much for the tradition-loving Chinese authorities to take.

Whatever the reason, there are two authorized versions of the film. The U.S. one, released in theaters this week, celebrates the party-down mentality that one of its three leads, a slacker named Miller, extols. The other offers a cautionary tale of a Chinese exchange student that comes to an American university and learns from his (bad) experiences. "'21 & Over,' in China, is sort of a story about a boy who leaves China, gets corrupted by our wayward, Western partying ways and goes back to China a better person," co-writer and co-director Jon Lucas said. You would never leave the American version with that message.
Lucas and his collaborator Scott Moore know gross-out comedy: they wrote the script to the R-rated, mega-hit "The Hangover" a few years back, and tell a similar tale here: a night of partying by three college-aged men gets out-of-control, made worst that one of them - Jeff Chang - has an important medical school interview early the next morning. When the three, which also include the staid, Wall Street-bound Casey, find themselves walking the campus bare-ass by dawn, it is time for some quick planning to get Chang to his interview.

But unlike "The Hangover," the partying unfolds pretty much in real-time. (The film opens with a teaser of Miller and Skylar walking naked, except for socks covering their penises, then flashes back to the day before.) The two have come to Chang's campus to celebrate their high school buddy's 21st birthday. At first Chang is reticent to party, especially after his stern doctor dad turns up to mentor his son through an interview that is to take place early the next morning. But a few tequila shots later, Chang is bar-hopping, thumbing his nose at bouncers, drinking shots out of belly-buttons, and peeing on a crowd from on top of a bar.

After he passes out, Skylar and Miller can't recall the way back to his apartment, which leads them to set out to find someone that might know the address. This takes them to Nicole (Sarah Wright), an attractive blonde who teases the boys with her bad-girl side. Skylar is immediately smitten, but must deal with Randy (Jonathan Keltz), Nicole's obnoxious boyfriend whom Chang has pissed off by throwing a dart that pierced his cheek. (Ouch!)
Skylar and Miller's journey also takes them to an all-girl Latino sorority with some angry, not especially male-friendly sisters, and a party highlighted by a drinking game that the pair excel at (and are no worse for wear upon imbibing massive amounts of alcohol). They are also stripped naked and forced to kiss each other in an oddly ambivalent moment that may reflect the changing attitudes towards gay behavior by Hollywood. (At first, they're appalled, then, while doing it, one says he's getting a "chubby").

Upon passing out, Chang becomes like the corpse from those "Bernie" movies - dragged around the campus by his two companions. As to be expected, Chang's dad gets wind of his son's antics and sets out to find him; and, oh yes, Skylar keeps running into Nicole and their romance blooms. The film skirts some serious issues, such as the nature of changing friendships, becoming an adult and even suicide; but it does so in such a glib manner that it was difficult to take very seriously.

Not that you should. If there's a reason to see this lame and obvious comedy it is to see the rapport between its three leads. Skylar Astin brings a sweet gravitas to the uptight Casey, while Miles Teller tempers his frat boy ethos with a fast wit. Justin Chon effectively plays Jeff Chang's conflicted nature with a mix of sadness and out-of-control behavior. Chon has both comic flair and pathos; it's a shame that he spends a third of the movie being carried around like a corpse. Perhaps his character is better fleshed out in the Chinese version, which, alas, will not be seen in the States, that is unless it is included on the DVD release.
21 and Over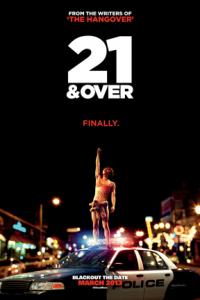 Info
Runtime :: 93 mins
Release Date :: Mar 01, 2013
Language :: English
Country :: United States

Comments on Facebook