The Call
Thrillers can be DOA without the right concept, director, and actors to pull them off. Intrinsically, the type of edge-of-your seat movies that keep audiences enthralled usually require them to forgive the playful conveniences that the plot puts forth in order to get their heart rate going. Done just right, these thrillers can be exciting and fun. Thankfully, "The Call" does just that.
Directed by Brad Anderson ("The Machinist") the film stars Halle Berry as Jordan, a 911 Operator who has a "bad call" that results in the death of a teenage girl. Finding it hard to go back to work, she is put into a training position. Six months later while showing some new students the ropes of the call center known as "The Hive," she assists a rookie operator with a call concerning a kidnapped girl locked in the trunk of a moving car. A bond forms between Jordan and the girl (named Casey and played by Abigail Breslin) and for the next forty minutes we are bracing ourselves for one suspenseful ride. When Jordan realizes the kidnapper is the same man that killed the teenager six months before, he has made it personal for her and she isn't going to take that casually. That's when we get the next half of the story which is equally as gripping.
What's most interesting about this film is that no movie has really delved into the "hive" of 911 Operations. As Jordan states, "It's the glue that holds the city together." The role of those that take these calls is so stressful and they have to be so calm and prepared that it's fascinating to watch it play out. (There is a TV show in there somewhere.) So the great thing about the script by Richard D'Ovidio is that he puts the audiences ina place they know about, but haven't been privy to. Then he spins it and puts the terror into it and instantly you have an engrossing situation that does not let go for the 100-minute running time.
One of the best things about this type of movie is seeing it with an audience.
The amount of tension generated is the gift of Anderson who is most known for moody thrillers like "Session 9," "Transiberian" and the underrated "Vanishing on 7th Street." This man knows how to keep your hands clenched into a ball and does so in a relatively believable way. Sure, any thriller is going to throw a few too many wrenches into the equation to ramp up the anxiety. But that's the fun of going to see movies like this. And that realism is aided by a great cast led by Berry and Breslin.
Halle Berry doesn't always get the credit she deserves and here, despite it being a sort-of throw-back thriller from the 90's, she infuses her role with enough weight that we do care about her and we do understand the stressors of her job. The guilt she feels about possibly causing the death of the first girl is palpable, and how it affects the rest of the story informs how well she plays the character.
Similarly, Breslin (best known for "Little Miss Sunshine") is all grown up and uses the talents she's displayed thus far to make a potential thankless role into one with some gravitas to it. She's not simply the girl in the trunk crying and afraid. She really gets the hysteria of the situation and makes it believable without relying on histrionics.
One of the best things about this type of movie is seeing it with an audience. This is they type of film where you want to cheer, clap, and gasp with other people. It's just a fun ride that is absolutely effective in what it sets out to do. No, it's not an Oscar movie. It's just plain exciting. And if that's what you're looking for, you're in for one hell of a ride.
The Call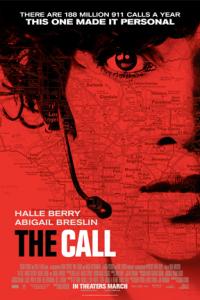 Info
Runtime :: 96 mins
Release Date :: Mar 15, 2013
Language :: English
Country :: United States

Kevin Taft is a screenwriter/critic living in Los Angeles with an unnatural attachment to 'Star Wars' and the desire to be adopted by Steven Spielberg.
Comments on Facebook