The Incredible Burt Wonderstone
As goofy comedies go, Steve Carell can pretty much make anything a chuckle-fest. Even when it's a bit of an uneven hodgepodge of ideas and gags like his latest, "The Incredible Burt Wonderstone." Directed by Emmy Award winner Don Scardino ("30 Rock") from a screenplay by the guys behind "Horrible Bosses," the story revolves around a bullied kid who discovers magic, and the nerdy kid that becomes his best friend. Twenty years later they have teamed up to become one of Vegas' biggest magic acts: The Incredible Burt Wonderstone (Steve Carrell) and Anton Marvelton (Steve Buscemi). But ego and laziness have made their act cheesy and stale (okay, it IS Vegas, after all) and Burt's relationship with Anton is strained, if not non-existent. Soon enough the boys' ticket sales are plunging due to a new magic act in the form of Steve Gray (Jim Carrey). Mocking the likes of Criss Angel, Gray is the sort of New Agey quasi-philosophical stunt master who doesn't really do magic as much as he does things that are grossly impossible while spouting nonsense that's supposed to be profound. (One of his stunts is to hold his pee in for two weeks.) But, the easily impressed crowds of Vegas love him and his popular TV show "Brain Rapist" is a cult phenomenon. As a result, he has become the next big thing, leaving Burt and Anton in the dust. Not to mention, Burt's dismissal of his thirty year friendship with Anton causes Anton to break up the team and Burt ends up with only half of a show. Soon enough he's been fired and finds out he's broke.
With no place to go, he ends up befriending (read: uses) his latest magician's assistant Jane (Olivia Wilde) for shelter, but her adoration of his work is tarnished because of his lousy personality. On his own, he takes a job at a retirement home where he runs into Rance Holloway (Alan Arkin) a famous magician who was the inspiration that drove Burt to want to become a magician in the first place. Pretty soon he is ingratiating himself to him and the two end up a team.
It's one of those 90 minutes where the audience keep snickering and laughing even though the movie itself isn't that successful.
All of this leads to a competition between the magicians of Vegas for a spot as the main show at a new hotel owned by Doug Munny (James Gandolfini.) The rest is best left to experience for yourselves.
Here's the thing: The movie is funny. It's one of those 90 minutes where the audience keeps snickering and laughing even though the movie itself isn't that successful. There are a bunch of easy plot points, magic tricks that are not plausible (although that's what's funny), and the Gray character is so ludicrous that it actually gets not-so-funny. The end, while hilariously clever and stupid at the same time, is a bit anti-climactic because there are really no stakes. Still, you can't help but root for these nuts.
Carell is a comedic magician, himself. He can walk into a room and ask for a glass of water and make people fall over laughing. Buscemi is a goofball here and looks to be having a great time doing it. Wilde gets to be pretty, caring, and tough all in one fell swoop, but there's almost another movie in there all about her. Jim Carrey perfectly overdoes his mocking of the douche Criss Angel types, but by the end the character doesn't make much sense and his stunts are just weird. I think one more pass at this script to tighten up story beats and make some of the ideas a bit more grounded in reality might have made this a much more solid film. As it stands, it's pretty dang funny, but not entirely magical.
The Incredible Burt Wonderstone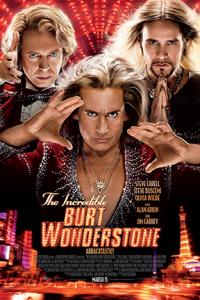 Info
Runtime :: 100 mins
Release Date :: Mar 15, 2013
Language :: English
Country :: United States

Kevin Taft is a screenwriter/critic living in Los Angeles with an unnatural attachment to 'Star Wars' and the desire to be adopted by Steven Spielberg.
Comments on Facebook