Jurassic Park 3D
Steven Spielberg was, in fact, at his best when simultaneously scaring us and filling us with wonder; from that point of view, 1993's "Jurassic Park" was perhaps the pinnacle of his career. Others might laud his more serious film from that year - "Schindler's List" - as a more significant directorial outing. But ask anybody you know which movie is more entertaining, and the first image that'll come to mind is that of a T-Rex chomping down on a Velociraptor. There's just no comparison.

"Jurassic Park," of course, was also a self-knowing behemoth of a marketing vehicle, its footsteps into the halls of cinematic history more groundbreaking than the rain-filled prints of the aforementioned T-Rex. It ushered in a veritable era of CGI special effects, has spawned three additional films (with a fourth on the way), and helped reestablish the dinosaur as the coolest thing both in the minds of young boys and on the shelves of toy stores the world over.

So, twenty years later, it deserves a bit of a reissue. Smartly reimagined in 3D without changing one iota of the original film's experience, it will not only delight those who haven't seen the picture on the small screen in the last few years - it will enchant a whole new generation of kids for which Mom and Dad's DVD collection is looked on as, well, their movies.

It's also a reminder that character-based conflict still drives the best stories. I'm not talking about the colorful individuals who inhabit "Jurassic Park" during the dinosaur rampages that result from the disengaging of electric fences - although they're entertaining enough with Richard Attenborough, Laura Dern, Sam Neill, Jeff Goldblum and Martin Ferrero running amok. I'm talking about the terrifying but acutely fascinating tendencies of man to jump feet first into the act of scientific exploration. Sure, this was the overriding theme of Michael Crighton's novel; but it also translated admirably to a classic suspense film. Kids and adults alike can marvel at the special effects - just as they do with CGI movies today - but behind them lies a cautionary tale about the dangers of the seemingly innocuous discoveries that result when science subverts nature. Just think Facebook, if you will.

The film does have a few moments when it still seems dated; a graphic exploration of UNIX is laughable, the kids' excited proclamations when the ride cars feature interactive CD-ROMs, and the occasional shirtless shots of Jeff Goldblum, during which one can pretty much hear the porn soundtrack playing in the imagination. But the story for the most part holds up beautifully, even in today's fast-cut cinema world. The 3D presentation is admirable as well; the occasional shot calls its 3D out during particularly effective moments, but mostly it's subdued, adding to the atmosphere rather than detracting from the story.

Despite the need to plunk down $10 to see at the cinemas a film you probably already own on Blu-ray or DVD, "Jurassic Park" is worth revisiting.
Jurassic Park 3D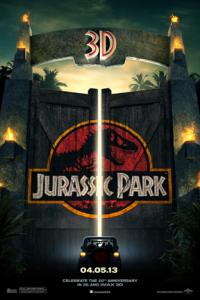 Info
Runtime :: 126 mins
Release Date :: Apr 05, 2013
Language :: English
Country :: United States

David Foucher is the CEO of the EDGE Media Network and Pride Labs LLC, is a member of the National Lesbian & Gay Journalist Association, and is accredited with the Online Society of Film Critics. David lives with his daughter in Dedham MA.
Comments on Facebook