The Great Wall
The latest "white guy saves the day in a foreign land" opus, "The Great Wall" is a mishmash of ideas and tropes we're so familiar with that the spectacle can't save it from being a total yawn.

This is upsetting because it comes from prolific and celebrated director Zhang Yimou ("Hero" "House of Flying Daggers" "Raise the Red Lantern") who is, personally, one of my favorite directors. Here, he seems saddled by a typical studio production that wanted a familiar American hero and for most of the dialogue to be in English. The convoluted (and spare) script by a three screenwriters and three "story by" writers tries to be a buddy comedy/adventure, a period piece spectacle and a monster movie all at once. In none of these respects does the film reach its target.

The basic story goes something like this: A mercenary named William (Matt Damon) is searching for a legendary black powder (hey! It's gun powder!) when he and his cohort, Tovar (Pedro Pascal), are taken prisoner as soon as they arrive at the Chinese border (also known as "The Great Wall"). An army defending China from an unknown enemy has been stationed there and questions William and Tovar about their business. But just as they are about to be put into a prison cell, the Wall is attacked by creatures right out of Jurassic Park. Handcuffed and propped on top of the Great Wall, William and Tovar watch as the army impressively fights the beasts with a handful of pyrotechnics and gravity-defying Cirque-du-Soleil style acrobatics. During the battle, the two get loose of their bounds (thanks to Willem Dafoe's Ballard, who has apparently lost all acting ability and looks completely befuddled as to how he ended up in the movie) and help save the day. The army is thankful and allows them to join their ranks.

Tovar just wants the powder and to get the hell out, but William is drawn to do what is good. Why? Who knows? These are thinly-drawn characters with minimal backstory and clunky expositional dialogue that is of little interest except to keep the spare plot moving forward. The rest of that plot is basically, "How do we stop these beasts and their queen before they multiple like gremlins and take over the world?" Part of that explanation has to do with a mysterious magnet rock that is the key to keeping the beasts at bay.

The design of the monsters -- known as Tao Teis -- are cool, but they never feel flesh and blood. In fact, with the overly stylized and colorful army uniforms and the wide shots of CGI battles and landscapes, the whole film feels like a video game; like a Chinese "Lord of the Rings" but without a deeply felt journey for the characters to go on. I mean, it's nice that Commander Lin Mei (Jing Tian) doesn't feel the need to seduce William, and despite his clear attraction for her there is no romance in the film. That said, it might have offered a little spice to a story that is so paint by numbers I felt like there were watercolors all over my hands by film's end.

Costume designs and attention to set detail is always impressive in a Yimou film, but his trademark ability to add real depth and interest to his characters is nowhere to be found. He is a master at both small dramas and big spectacles, but here he seems restricted by guidelines that the Chinese-American production thrust upon him. As a result there is nothing truly memorable here and -- in fact -- it slips from your memory the moment you walk out of the theatre.
The Great Wall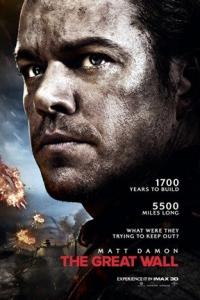 When a mercenary warrior (Matt Damon) is imprisoned within the Great Wall, he discovers the mystery behind one of the greatest wonders of the world. As wave after wave of marauding beasts besiege the massive structure, his quest for fortune turns into a journey toward heroism as he joins a huge army of elite warriors to confront the unimaginable and seemingly unstoppable force.
Info
Runtime :: 104 mins
Release Date :: Feb 17, 2017
Language :: Silent
Country :: China

Cast
William Garin :: Matt Damon
Commander Lin Mae :: Jing Tian
Pero Tovar :: Pedro Pascal
Ballard :: Willem Dafoe
Strategist Wang :: Andy Lau
General Shao :: Hanyu Zhang
Commander Wu/Tiger :: Eddie Peng Yu-Yen
Peng Yong/Cadet Bear Corps :: Lu Han
Commander Chen/Eagle Corps :: Kenny Lin
The Emperor :: Junkai Wang
Shen :: Zheng Kai
Imperial Guard :: Cheney Chen
Commander Deng/Deer Corps :: Xuan Huang

Crew
Director :: Zhang Yimou
Screenwriter :: Carlo Bernard
Screenwriter :: Doug Miro
Screenwriter :: Tony Gilroy
Producer :: Thomas Tull
Producer :: Charles Roven
Producer :: Jon Jashni
Producer :: Peter Loehr
Executive Producer :: Jillian Share
Executive Producer :: Alex Gartner
Executive Producer :: E. Bennett Walsh
Executive Producer :: La Peikang
Executive Producer :: Zhang Zhao
Cinematographer :: Stuart Dryburgh
Cinematographer :: Zhao Xiaoding
Film Editor :: Mary Markey
Film Editor :: Craig Wood
Original Music :: Ramin Djawadi
Production Design :: John Myhre
Costume Designer :: Mayes Rubeo

Kevin Taft is a screenwriter/critic living in Los Angeles with an unnatural attachment to 'Star Wars' and the desire to be adopted by Steven Spielberg.
Comments on Facebook