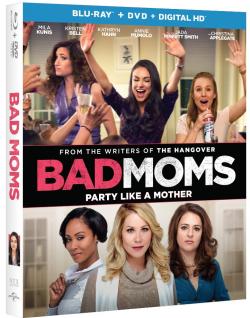 BAD MOMS

AVAILABLE ON DIGITAL HD NOW

AND ON BLU-RAY & DVD ON NOVEMBER 1, 2016

ALL-STAR COMEDIC CAST INCLUDING MILA KUNIS, KRISTEN BELL, KATHRYN HAHN, CHRISTINA APPLEGATE, JADA PINKETT SMITH AND ANNIE MUMOLO IN THE OUTRAGEOUS AND ENDEARING COMEDY FROM THE WRITERS OF THE HANGOVER

Bad Moms, the year's biggest R-rated comedy - a runaway hit with audiences and critics alike - is coming to Digital HD on October 18, 2016 and Blu-ray™, DVD and On Demand on November 1, 2016, from Universal Pictures Home Entertainment. The raunchy film described as "incredibly funny!" by Chris Nashawaty, Entertainment Weekly, is the first R-rated comedy since The Hangover to earn an "A" grade from audiences nationwide. Hailed by critics from The New York Times, Chicago Sun-Times and Washington Post, Bad Moms is one comedy not to be missed. The Blu-ray™, DVD and Digital HD come with nearly an hour of exclusive bonus content including hilarious deleted scenes, gag reels and exclusive interviews with the cast and their moms that will have everyone laughing again and again!

Written and directed by Jon Lucas and Scott Moore (The Hangover Trilogy, Four Christmases) and produced by Suzanne Todd, (Alice Through The Looking Glass) and Bill Block (Dirty Grandpa), the comedy also features Jada Pinkett Smith (The Women), Christina Applegate (Anchorman 1 &2), Annie Mumolo (The Boss) and Jay Hernandez (Suicide Squad). It's time to party like a mother with this hysterical and relatable film.

In this hilarious and heartfelt comedy from the writing duo behind The Hangover, Amy (Mila Kunis) has a seemingly perfect life - a great marriage, over-achieving kids, beautiful home and a career. However, she's over-worked, over-committed and exhausted to the point that she's about to snap. Fed up, she joins forces with two other over-stressed moms (Kristen Bell and Kathryn Hahn) on a quest to liberate themselves from conventional responsibilities - going on a wild, un-mom-like binge of long overdue freedom, fun and self-indulgence - putting them on a collision course with PTA Queen Bee Gwendolyn (Christina Applegate) and her clique of devoted perfect moms (Jada Pinkett Smith and Annie Mumolo). See the movie that critics are cheering as "...a funny, giddy, sentimental laugh-in..." - Manohla Dargis, The New York Times.

The film will be available on Blu-ray™ with DIGITAL HD and UltraViolet™ and DVD.

BONUS FEATURES ON BLU-RAYTM, DVD AND DIGITAL HD

-Deleted Scenes

-Gag Reel

-Cast & Moms Interviews: A collection of intimate moments between the leading cast including Mila Kunis, Kristen Bell, Kathryn Hahn, Christina Applegate, Jada Pinkett Smith and Annie Mumolo and their moms.

Website:
http://stxmovies.com/badmoms/

Facebook:
https://www.facebook.com/BadMoms

Twitter:
https://twitter.com/badmoms

Instagram:
https://www.instagram.com/badmoms/

Enter to win!

Thanks for visiting EDGE!
Enter this contest
If you already have an account with EDGE, all you need to do is log in; we'll pull your address information from your account and simply ask you to verify it. If you do not yet have an account with us, register now! It's easy and free, and you'll never have to type in your personal information again. If you prefer to enter this information manually, you can use the manual entry link below.
Register
Manual Entry
Click here for contest rules.
* Please be aware that creating multiple accounts for the same person will disqualify you.