Let My People Go
When Ruben (Nicolas Maury), a French transplant living and working as a postman in Finland, tries to deliver a parcel containing almost 200,000 euros, the intended recipient--one Mr. Tiilikainen (Kari Väänänen) refuses to accept it. After a brawl, in which Tiilikainen collapses, Ruben, fearing him dead, takes the money and flees back home. But his freaked-out boyfriend Teemu (Jarkko Niemi) panics in turn and throws Ruben out. Dejected and convinced that he's about to take the rap for one heinous crime or another, Ruben returns to Paris and his family... and that's when his troubles really start.

In Mikael Buch's frothy farce "Let My People Go" (which he co-wrote with Christophe Honoré), themes of exile and loss bounce off lurid family secrets and set off cascades of comic chaos. Sister Irène (Amira Casar) is on the verge of a divorce from her Gentile husband, an unemployed actor named Hervé (Charlie Dupont); Nathan (Jean-François Stévenin), Ruben's father, comes out to Ruben as having been involved in a clandestine affair for the last 20 years ("You're the only one who can't preach at me about it," he explains to his shocked son, even as the other woman waits to meet them in a coffee shop); and hot-headed brother Samuel (Clément Sibony) is always one wrong word from going off like a grenade. None of it, of course, holds a candle to the surgical skill with which Ruben's mother, Rachel (Carmen Maura), wields guilt. "One day you'll wish you hadn't killed me," she cheerily informs Ruben, after pestering him to find a nice Jewish boy with whom to settle down.

Mom may not have had him in mind, but an older gent--a lawyer named Mr. Goldberg (Jean-Luc Bideau)--decides, upon meeting Ruben at a club, that he's found his true love. Teemu, meantime, is left to reconsider his hasty actions, sorting his feelings out by way of sauna confessionals and wild sex with a hunky park ranger. Everything comes to a head on Passover; it's a clumsy metaphor, and the device of a family fracas unfolding in slow motion over a holiday is old hat, but things speed along with such aplomb you hardly even notice. From a candy-colored Finnish idyll to a limb-flailing dustup with gendarmes? Why not? Buch's full-throttle direction and the script's funhouse inventiveness makes it all seem effortless, even when things go over the top (as when a jealous lover suddenly appears with a gold club to visit manic destruction on a borrowed car).

Underneath the frantic frolics there's a tender love story. Will Ruben and Teemu be reunited in spite of everything? The soapy denouement, following hard as it does on the movie's many twists and turns, will leave you blowing bubbles, but this satisfying romp will also give you a smile and leave the lovers in the audience holding hands.
Let My People Go!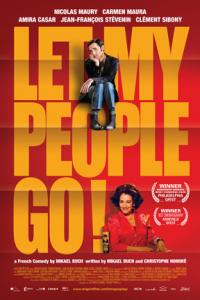 Info
Runtime :: 85 mins
Release Date :: Dec 28, 2011
Language :: French (Canada), Finnish
Country :: France

Crew
Kilian Melloy serves as EDGE Media Network's Assistant Arts Editor. He also reviews theater for WBUR. His professional memberships include the National Lesbian & Gay Journalists Association, the Boston Online Film Critics Association, The Gay and Lesbian Entertainment Critics Association, and the Boston Theater Critics Association's Elliot Norton Awards Committee.
Comments on Facebook