LGBTQ MOVIE NIGHT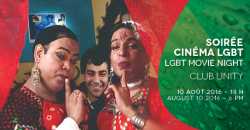 When:
Wednesday August 10 at 6:00PM

Where:
Club Unity Montreal
1171, rue Sainte-Catherine , Montréal Québec H2L 3G6

Map It

About:

** $5 green bracelets **

Club Unity transforms into a movie theatre!

Three movies/short films will be shown on the big screen. Most notably, Indian director Sridhar Rangayan, one of the grand marshals of Montréal Pride 2016, will be presenting his film The Pink Mirror. Photographer and videographer Oz Yilmaz will present the international premiere of his series of six interviews with LGBT couples, produced especially for Pride 2016.

6 PM
Real-Life LGBT Couples
Photographer and filmmaker Oz Yilmaz has been living in Québec for more than five years now. Over the course of last year, he produced a series of profiles featuring artists from Québec's contemporary visual arts scene. You can see these profiles on his website, www.portragram.com. Oz is currently working on a new series of profiles, this time focusing on gay and lesbian couples, who open up to the producer about their backgrounds and daily lives

7 PM
Courts-métrages indiens
Selected by director Sridhar Rangayan, these short films will give insight into the many different realities of living as an LGBT person in India.

KASHISH 2016 Highlights
8 mins
A short video of the 7th edition of KASHISH Mumbai International Queer Film Festival which was held from May 25-29th 2016 in Mumbai, India. The festival which is one of the biggest LGBT film festival in South Asia includes film screenings, panel discussions, performances, filmmaker interactions and celebrity red carpet attendance.

THE NIGHT IS YOUNG (Raat Baaki)
Dir: Pradipta Ray
8 mins / English, Hindi with English subtitles
On a balmy night in the city, three couples - one straight, and two queer - brave the odds to grab a few moments with their love. As their worlds collide, will luck favour them tonight? Raat Baaki... The Night Is Young.

BECAUSE... (Kyunki...)
Director: Avinash Matta
9.17 min / Hindi with English subtitles
When you start believing, you don't have to be answerable. 'Kyunki' is a short journey of a non-believer towards his realization of faith in queer rights.

8 PM

THE PINK MIRROR
Dir: Sridhar Rangayan
40 mins / Hindi with English subtitles
India's first film on Drag Queens, 'The Pink Mirror 'pits two Indian drag queens against a westernized gay teenager in a battle to woo a handsome hunk. It's a clash of the east and west. Using the Bollywood soap idiom of song, dance and drama and for the first time in the Indian drag queens' very own language, Hindi, the film also explores other veiled issues related to the Indian gay community: the lurking threat of HIV/AIDS.
Rangayan's debut film was a huge success in the film festival circuit having played at more than 80 international film festivals and winning multiple awards, but it remains banned in India.