Naughty, Not-So-Nice Gifts for Him
Steve Weinstein has been a regular correspondent for the International Herald Tribune, the Advocate, the Village Voice and Out. He has been covering the AIDS crisis since the early '80s, when he began his career. He is the author of "The Q Guide to Fire Island" (Alyson, 2007).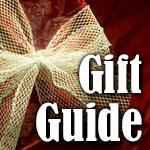 This article is part of our "2012 Holiday Gift Guide" series. Want to read more?
Here's the full list»
Comments on Facebook