Recent Photos from EDGE Media Network!
1 thru 10 of 7760 Stories
Prada, Arthur Arbesser, No. 21, Jil Sander and more hit the runway in Milan with their spring/summer 2020 collections.
Twice a year, the New York fashion world trudges to the Upper East Side and the cavernous Park Avenue Armory to see what new tricks Marc Jacobs has up his sleeve.
Don't look for Rihanna's new collection on social media. The curated audience heavy on young influencers had their phones locked in cases for the NY Fashion Week show that was filmed for streaming Sept. 20 exclusively on Amazon Prime. Here's a sneak peek.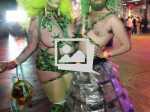 Bushwig is, without a doubt, the biggest display of a creativity and camaraderie in New York City. Two days of nonstop glam, eccentricity and so much talent!
Sporty was the name of Ford's game for spring 2020, in elevated ball caps and leather biker jackets of black and cream.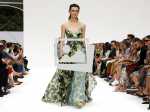 Wes Gordon, now into his second year as the label's creative director, upped his game with a crowd-pleasing, flower-themed collection that was big on color and vibrant prints.
RuPaul's DragCon NYC, a three day celebration of everything drag, was held at the Jacob Javits Center. Fans of all ages were able to meet some of their favorite Drag Race girls, buy merchandise, listen to various panel discussions, and watch live shows.
Almost everybody is saying goodbye to summer, but Brüt took it to another level! Dan, Peter and Abel brought their party to a boat and cruised and danced the night away.
It was the girls turn to have some fun in the sun as Key West Business Guild presented the Womenfest Kickoff and Pool party held at Alexander's Guesthouse.
Adorning his runway Sunday at New York Fashion Week with hanging bouquets mixed with flags from around the world, the designer celebrated diversity in size and ethnicity, using plus-size models, nonbinary walkers and those of all colors.
1 thru 10 of 7760 Stories