Gay News: The Latest
In addition to the ancillary charges, other roadblocks persist for people who need PrEP from getting it.
It was a beautiful sunny day as the crowds came out to enjoy the San Diego Pride Parade and to support the LGBTQ community. People cheered as the participants marched through Hillcrest into Balboa Park for the Pride Celebration.
San Francisco Kicked off Pride in Hillcrest, with the Spirit of Stone Wall Rally. Community leaders came out to give motivational speeches, followed by a moving performance by the San Diego Gay Youth Marching Band, while a huge rainbow flag was raised!
Unbowed by searing criticism, President Donald Trump on Monday emphatically defended his tweet calling on four Democratic congresswomen of color to go back to their "broken and crime infested" countries.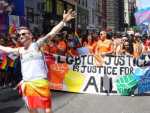 2019 has been a great year for Pride festivals and parades nationwide, many of which commemorated the 50th anniversary of the Stonewall Uprising. Check out our roundup of EDGE coverage and photo albums from this year's events so far!
Damien Chazelle, the director of "La La Land" and last year's Neil Armstrong biopic "First Man," is readying his next project "Babylon," a Hollywood story that may reunite him with Emma Stone.
Actor Austin Butler will star as music icon Elvis Presley in an upcoming biopic by filmmaker Baz Luhrmann.
Some big fundraising hauls by Democrats are easing worries that lackluster totals last quarter were a sign the party would struggle to stockpile cash for the general election fight with President Donald Trump.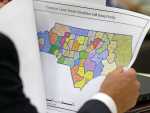 A North Carolina state court trial on whether legislative districts are illegal partisan gerrymanders starts just weeks after the U.S. Supreme Court ruled it wasn't the purview of federal courts to decide if boundaries are politically unfair.
Nyle DiMarco, the queer winner of "America's Next Top Model" and "Dancing with the Stars," is the latest celeb to use the popular FaceApp — an app that radically transforms selfies — and his pics are going viral.
An anti-Brexit activist who won a major legal case against the British government said Sunday she will go to court again if the next prime minister tries to force the U.K. out of the European Union without a deal.
K.Flay's fourth studio album, "Solutions" is about as safe as a pop record can be. Fans of her previous hits will find a lot of the same sound here as in her last albums, but nothing fresh and nothing as inventive.
Taxpayer-funded family planning clinics must stop referring women for abortions immediately, the Trump administration said Monday, declaring it will begin enforcing a new regulation hailed by religious conservatives and denounced by medical organizations.

India's space organization is examining the technical snag that led to the aborting of the launch Monday of a spacecraft intended to land on the far side of the moon, an official said.

Here are four beach destinations where you could soak up the sun using points and miles.
Police in Oslo say they have stopped a foreign tourist who was caught on surveillance cameras riding through part of a vast and busy tunnel system in the center of the Norwegian capital on an electric scooter.
Some experts seem to agree that the symptoms and circumstances fit the indicators of deaths caused by adulterated alcohol.

After feeling sick for several days the pastor boarded a bus traveling to eastern Congo's largest city. Only upon arrival at his destination did anyone suspect he had the highly deadly and infectious Ebola virus.
Officials have issued a high-surf warning for south-facing shores on all of Hawaii's islands.
With Bear Week beginning on Saturday, FUZZ at Boston's The Alley Bar was the place to be on Friday night before heading to the Cape. See who was there.