Jimmy Kimmel Gets Serious During NY Fashion Week
Late night talk show host Jimmy Kimmel hits the streets during New York Fashion Week and discovers that wannabe fashionistas will say just about anything on camera.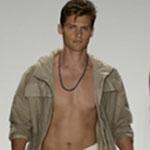 This article is part of our "New York Fashion Week: What's Hot for Spring 2014" series. Want to read more?
Here's the full list»
Comments on Facebook