1 thru 10 of 4025 Stories
If the threat of a recession gives you pause when it comes to your personal finances, remember now is a time to prepare, not panic.
The Federal Housing Administration is changing regulations to make it easier for more first-time condo buyers to receive mortgages.
Tapestry Inc.'s shares lost nearly a quarter of their value Thursday after the upscale handbag and fashion company said that it would have an unexpected drop in profit and revenue in the current quarter.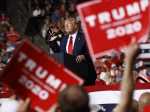 President Donald Trump on Thursday sought to reassure his supporters about the state of the U.S. economy despite the stock market volatility and told rallygoers in New Hampshire that their financial security depends on his reelection.
How fragile is the global economy? The U.S.-China trade war is weakening businesses in both countries, Germany's economy shrank in the second quarter, and Britain appears headed for a disruptive exit from the European Union this fall.
A massive immigration raid in Mississippi revived a longstanding complaint: Unauthorized workers are jailed or deported, while the managers and business owners who profit from their labor often go unprosecuted.
Financial markets are flashing a key warning sign of a recession, and the global economy is weakening as the U.S.-China trade war intensifies. All of which is heightening fear about the U.S. economy
Child care costs in most states exceed federal subsidy payments provided to low-income parents, according to a newly released report from the Department of Health and Human Services Office of Inspector General.
Instead of taking a personal loan rejection personally, use it as motivation to build your credit and supplement your income so you win approval the next time you apply. Here's how to recover.
Yields on 2-year and 10-year Treasury notes inverted early Wednesday, an indication that investors have lost faith in the soundness of the U.S. economy and a warning of a possible recession ahead.
1 thru 10 of 4025 Stories