1 thru 10 of 2982 Stories
British Prime Minister Boris Johnson says he'll tell U.S. President Donald Trump that the U.K.'s state-funded health service will be off the table in any future trade negotiations, and that the U.S. will have to open its markets to British goods.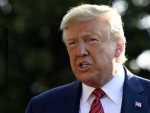 The claims helped mark a week of familiar exaggerations, misstatements and fabrications by Trump, on topics from drug prices and the news media to trade.
A small but growing number of U.S. citizens have picked up immigrants from detention centers, driven them to bus stations and doctor appointments, shared meals with them or hosted them at their homes.
President Donald Trump and his team are distorting the facts in explaining the administration's decision to stop California from setting its own emission standards for cars and trucks.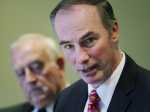 The former administrator for Iowa's third-largest city is suing the area's biggest newspaper, claiming that its coverage was unfair and cost him his job, in a case that has alarmed advocates for press freedom.
Sound checks echoed from a distant main stage while Daniel Martinez whirled and danced at dusty makeshift festival grounds just after sunset in Rachel, the Nevada town closest to the once-secret Area 51 military base.
No one knows what to expect, but the two tiny towns of Rachel and Hiko near the once-secret military research site are preparing for an influx of people over the next few days.
President Donald Trump threatened to unleash the Environmental Protection Agency on San Francisco Wednesday after a California visit during which he blamed the homelessness crisis on "liberal" policies.
Lawyers for two Air Force members who are HIV-positive urged a federal appeals court Wednesday to uphold an injunction that bars the Trump administration from continuing with discharge proceedings against them.
President Donald Trump on Wednesday used Twitter to share an edited video made by a conservative comedian that falsely accused Democratic Rep. Ilhan Omar of dancing and partying last week on the 18th anniversary of the 9/11 terrorist attacks.
1 thru 10 of 2982 Stories