Nissan Chief Executive Hiroto Saikawa acknowledged Monday that he is working to pass over the helm at the Japanese automaker to the next generation, indicating he was ready to step down.
Thousands of tourists could soon be forced to make reservations and pay to drive the famous crooked Lombard Street in San Francisco.
The Trump administration is moving forward with a proposal to revoke part of California's authority to set its own automobile gas mileage standards, a government official said Thursday.
By the 2025 model year, nearly all new vehicles sold in the U.S. will come with electronic alerts to remind people to not leave children behind in the back seats.
A government report says the driver of a Tesla that slammed into a firetruck near Los Angeles last year was using the car's Autopilot system when a vehicle in front of him suddenly changed lanes and he didn't have time to react.
Motorized electric bicycles may soon be humming along serene trails in national parks and other public lands nationwide. Sales of the bikes are booming, and some aging or less fit people have sought the change.
In the car business, Labor Day is the end-of-model-year clearance. But as Edmunds data shows, this year's Labor Day weekend deals might not be as impressive as they were in the past.
Tesla owners in California can now buy insurance from the electric car company in what may be the first step toward the unconventional automaker providing coverage for a fleet of driverless taxis.
Japan's top automaker, Toyota, and smaller rival Suzuki are partnering in the development of self-driving car technology, as manufacturers around the world grapple with innovations in the industry.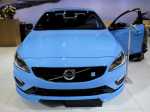 Amid rising trade tension, Volvo's electric brand, Polestar, is going ahead with plans to export its first Chinese-made model to the United States next year, the automaker's CEO said Tuesday.