Pete Buttigieg Gets Scruffy; Internet Goes Wild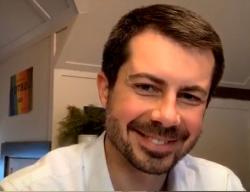 At the end of February, pics circulated of Pete Buttigieg with a beard. Turns out they were doctored, but they prompted a petition on Change.org to convince him to grow one.
Perhaps because he's social distancing — isolating with his husband Chasen — Buttigieg decided to embraced a scruffier look. And the Internet has gone wild with approval.
His new look made a debut on on an Instagram Live, hosted by husband Chasten, who introduced him by saying, "Look who's decided to join us... the beard himself."
Next "Buttigieg sent Twitter into meltdown once more with a bearded close-up in an Instagram Live Q&A with Dr. Dara Kass, an ER doctor who has recovered from COVID-19," reports Metro Weekly
"Even though this is a tough time for the country, I hope you're also finding the benefits and blessings that can come with this shock and this change that we're living with," Buttigieg said.
"Obviously, I've taken advantage of the simple fact of not having to shave every day," he added.
Today Buttigieg appeared in an interview on in an extended interview with Rolling Stone senior writer Stephen Rodrick.
"Buttigieg, speaking from his home office in South Bend, elaborates on the "crisis of belonging" during the COVID-19 pandemic, as well as how President Trump has handled the pandemic. The former Democratic presidential candidate, who ended his campaign at the beginning of March, believes that in fighting the coronavirus crisis we can learn what we are capable of doing in a time of disaster," writes Rolling Stone of the interview.
"You're used to being needed in a certain way that involves showing up somewhere," Buttigieg says. "And now you're needed in a shockingly different way, which is to sit tight. And yet, from wherever you are, you have a telephone, you've got the ability to bring joy into people's lives, you've got the ability to spread good information and combat misinformation, and you've got the ability to build yourself up, too."
But it was seeing the bearded Buttigieg that set the web on fire. Is he now officially a cub?
Comments on Facebook