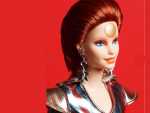 Barbie's now living in a Bowie world, at least for a limited time. Mattel has announced a limited edition Ziggy Stardust-themed Barbie in honor of the 50th anniversary of the David Bowie classic "Space Oddity."
A lawsuit filed by four reality show sisters can proceed against an Arkansas city that released confidential information about their alleged sexual abuse by a brother, a federal appeals court ruled Friday.
Singer R. Kelly, already facing sexual abuse charges brought by Illinois prosecutors, was arrested in Chicago on sweeping federal indictments.
Ed Sheeran has confirmed for the first time that he and long-time girlfriend Cherry Seaborn are married.
After four years together, Olympic skier Gus Kenworthy and boyfriend actor Matt Wilkas have broken up.
Disney Channel has canceled the red-carpet premiere of its movie "Descendants 3" after the death of 20-year-old star Cameron Boyce.
Openly lesbian comic Rosie O'Donnell is hardly reticent when it comes to critiquing the president. Even so, her latest broadside was enough to turn heads.
Human rights lawyer Amal Clooney accused world leaders Wednesday of failing to protect journalists and responding with "a collective shrug" over the slaying of Saudi writer Jamal Khashoggi.
A cheeky photo of One Direction singer Liam Payne is going viral this week.
In her first public appearance since discovering her masters were in the hands of someone she's not a fan of, Taylor Swift didn't directly address the issue, but she did play music from that rich catalog.