Actress Lori Loughlin and her fashion designer husband, Mossimo Giannulli, are pleading not guilty to charges they took part in the sweeping college admissions bribery scam, according to court documents filed Monday.
Mia Farrow will never forget the day she watched a baby die in her mother's arms.
The Cook County state's attorney said Friday that she has asked the county's inspector general to review how her office handled "Empire" actor Jussie Smollett's criminal case.
The actor who has become something of a sex symbol as the scruffy-faced, somewhat rumpled star of ads for the travel booking site Trivago has been arrested in Texas on a misdemeanor driving while intoxicated charge.
Wendy Williams has filed for divorce after nearly 22 years of marriage to her husband and manager.
Actress Amber Heard asked a judge Thursday to dismiss a $50 million defamation lawsuit her ex-husband Johnny Depp filed over an op-ed about domestic violence she wrote in The Washington Post, and provided new evidence toward her allegations of abuse.
Chicago filed a lawsuit against Jussie Smollett on Thursday in a bid to recoup the costs of investigating a racist, anti-gay attack that authorities say was orchestrated by the "Empire" actor as a publicity stunt.
Kim Kardashian West, a lawyer?
Shakespeare's patriarchal power play gets a Broadway reboot, thanks to Glenda Jackson's star turn in the title role.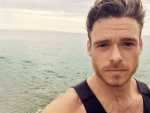 "Game of Thrones" actor and "Bodyguard" star Richard Madden is opening up about body image in a new interview with British Vogue.