Looking for a Fire Island Share this Summer? Check Out Share-A-Thon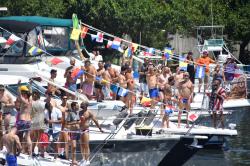 Fire Island Pines has long been a haven for gay men and their allies. "It's more important now than ever before that we come together as a community," says PJ McAteer, Managing Director of Fire Island Pines. He and his team have been working through the winter, revamping the island's retail shops, upgrading the restaurants, and creating new entertainment options. "We want everyone to feel safe and appreciated in The Pines," McAteer adds. "The island is a magical and unique place."

And if you are looking to head there this summer and are looking for a place, check out the Share-A-Thon Monday on March 16, 7-9pm at The Lesbian, Gay, Bisexual & Transgender Community Center (208 W 13th St, New York).

Share-A-Tohn is an event in which Fire Island summer share providers (those offering shares) and seekers (those looking for shares) can to meet and mingle over photos, floor plans, and fliers. For more information, visit this website.

Located 90 minutes from New York City, Fire Island Pines first became a destination for gay men in 1952. At a time when it was illegal for two men to dance together in public and when many in the world viewed gay men as sexual deviants, the island provided an important refuge for young men to take each other's hands and help each other explore their natural inclinations.

With its lush foliage, white sandy beaches and beautiful modern architecture, the Pines was a paradisiacal mecca for gay men, eventually attracting celebrities like Liza Minnelli, Luciano Pavarotti and Yoko Ono. Calvin Klein, David Geffen, Perry Ellis and the director Michael Bennett even purchased homes on the island.

"We are working hard to make sure there is something for everyone who visits Fire Island Pines. We have four excellent restaurants serving everything from tapas to Mediterranean faire and fabulous weekend brunches. We have some of the best nightlife on the planet featuring world-class DJ's and celebrity performers. And we have a hotel that is right smack in the center of all the action," McAteer says.

Of course, Fire Island Pines also boasts one of the world's best beaches. It, too, has been receiving the make-over treatment this winter with nearly 850,000 cubic yards of additional sand being added, along with new boardwalks, fencing and sea grass.

"Come out for a weekend," says McAteer. The trip from NYC to Sayville is less than two-hours on the Long Island Railroad. From there, travelers board busses to the Fire Island Pines ferry. For those outside of NYC, the Fire Island Pines ferry is a ten-minute cab ride from MacArthur airport. "Or, better yet, book a share and enjoy a summer that you will remember forever."

For more information about Fire Island Pines, follow this link.
Comments on Facebook