Cherry Grove Stories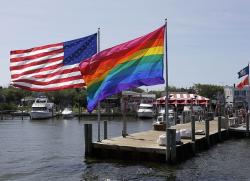 Michael Fisher's "Cherry Grove Stories" takes a look at the history of Fire Island's beachside haven. Longtime locals and regular visitors - some of them who have been coming to Cheery Grove since the 1940s - describe their love for a place they feel is unique. They have seen the town at its best, its worst, and everything in between, and their passion for the community is palpable.

Fisher's cinematography shows off the natural beauty of the area, while clips from home movies illustrate the boisterous sexual freedom of the place - a freedom that was a rare and wonderful thing in the oppressive climate of mid-century America. As one fellow has it, "coming out here with a boyfriend was like going to a whorehouse with your wife!"

Hilarious tales of "the meat rack" (evidently the Cherry Grove equivalent of Provincetown's famed Dick Dock), clips of high-spirited drag shows, and one lengthy (but worth it) anecdote involving a monkey make this a tasty and titillating slice of gay history. (Almost as amusing are the incredulous discussions of the mythical "donut rack.")

Interviewees tell about how there used to be no electricity or running water - as one man marvels of the drag queens back then, "some of them are beasts as it is; can you imagine what they looked like in that light?" - and how even here it used to be the case that occasional raids would take place, necessitating quick partner-shuffling in dance venues. But what an important thing it was that an oasis of relative safety and acceptance existed. No wonder so many gay guys and lesbians eventually made the place a permanent home. The one critique one hears is that the denizens of Cherry Grove seemed too content to withdraw to their secret haven and sit out the gay rights movement.

Time, alas, moves ever onward. To hear the town's habitues tell it, the place is getting altogether too straight, prudish, and calm. (Another Provincetown parallel.) That may well be true, but then again who knows what constitutes too calm for this dizzying collection of characters?

The cheesy music score is something of a distraction, but if you can tune it out you'll be fine.
Kilian Melloy serves as EDGE Media Network's Assistant Arts Editor. He also reviews theater for WBUR. His professional memberships include the National Lesbian & Gay Journalists Association, the Boston Online Film Critics Association, The Gay and Lesbian Entertainment Critics Association, and the Boston Theater Critics Association's Elliot Norton Awards Committee.

This story is part of our special report titled "NewFest 2018." Want to read more? Here's the full list.
Comments on Facebook