Beyond the Night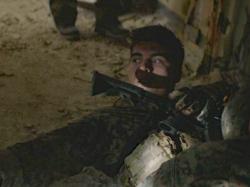 Like a supernatural "Winter's Bone," Jason Noto's thriller "Beyond the Night" seeks to pierce you to the marrow. To that end, perhaps, Noto (who wrote and directed) has named his protagonists accordingly: Ray Marrow (Zane Holtz), a Marine with no clear idea of how to tend to his young son Lawrence (Azhy Robinson) after the death of his wife in a traffic accident, returns to the mining town they left long ago. He's there, at first, for no reason beyond laying his wife to rest, but when Lawrence suddenly begins to put names to places and people he's never seen — including the daughter of a local thug named Benrie Coleman (Chance Kelly), a girl who went missing years ago — Ray finds himself embroiled in a mystery that might involve a murder from the past... and more than one murder in the near future.

The film makes a credible attempt to present its supernatural explanations in a calm and level-headed manner, throwing a child psychologist (Enid Graham) into the mix and serving up some hazy palaver about children with birth marks — like the one who draws stares and makes rude comments to Lawrence — being regarded in cultures worldwide as conduits to the spirit realm. But the nuts and bolts of the story don't make much sense; for one thing, the locals seem simultaneously terrified of Coleman and his family, and ferociously loyal to them. (Even when the Coleman clan pull their guns on Ray's sister Caroline [Tammy Blanchard] there are no repercussions, just nervous talk about not pissing them off... and Caroline, mind you, is a sheriff's deputy.)

Related to that is the way Ray hangs around town even after the Colemans start pointing guns at him and his family. Wouldn't most recently bereaved fathers simply pack up and head home to the city, as the town sheriff suggests?

The film's atmospherics might avoid creepy cliches, preferring pit-of-the-stomach dread over jump scares or phantasms, but its plotting has a formulaic feel that sabotages its attempt at placing real world textures into a fundamentally fantastical situation. The story spins out just as you expect; the bad guys turn out to be the villains you pegged from the start; and the ending, feeling tacked on and artificially happy, doesn't make much sense.
Kilian Melloy serves as EDGE Media Network's Assistant Arts Editor. He also reviews theater for WBUR. His professional memberships include the National Lesbian & Gay Journalists Association, the Boston Online Film Critics Association, The Gay and Lesbian Entertainment Critics Association, and the Boston Theater Critics Association's Elliot Norton Awards Committee.
Comments on Facebook