Woodstock: Three Days That Defined a Generation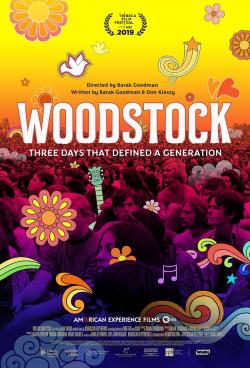 "One small step for man; one giant step for mankind" was stated on the moon on July 20, 1969. Three Days of Peace and Music was created on Yasgur's Farm in Bethel, New York, on August 15 that same year. Both otherworldly experiences happened in the midst of, and in response to, Vietnam War protests, the civil rights movement, and second wave feminism.

MLK had been assassinated in April 1968, and RFK was killed that June. The counterculture was looking for the "comfort" of music and to connect with like-minded folks, to "inaugurate a new era of self-expression and self-actualization." Thus, the Woodstock concert was planned, and this Woodstock movie offers a unique backstage pass to the genesis and "under preparedness" of this seminal event.

A few of the founders had special event planning experience, but none on this scale, for a festival that grew exponentially with each passing day.

Rich kids John Roberts, who had the Poligrip/Polident family fortune, and Joel Rosenman brought the funding to Artie Kornfield and Michael Lang, guys living in upstate New York who were considering building a recording studio. They decided to produce a concert instead.

The Monterey Pop festival started the large-scale music fest genre in 1967, and the Woodstock principals scoped out other shows to track trends, and to determine crowd-handling techniques and how many portable toilets to order. The planners originally selected a place called Wallkill, but, after initial publicity, the "Aquarian exposition" was nixed by the town. The emerging mantra was, "Get out of the way if you can't lend a hand."

The event was soon moved Yasgur's nearby dairy farm, a natural outdoor amphitheater space. The farmer was a Republican, but a strong proponent of freedom of expression. The team only had money and time to build the stage, so the fencing and ticketing procedure was scrapped. The concert was now free. Wavy Gravy and his Hog Farm collective were flown in to be the "Please Force," instead of police force, to maintain calm and soothe those having bad trips.

The lively documentary features archival photos and videos, primarily behind the scenes rather than on-stage shots, under voiceovers by attendees and locals, many of whom stepped up to feed the half a million attendees when food ran out.

The notable music acts are referenced: Roger Daltrey and Pete Townshend's energy fronting The Who; Jimi Hendrix's brutal, revelatory, earth-shattering National Anthem; Crosby, Stills and Nash performing and harmonizing together for the first time. But the focus of this refreshing film is on the impossibility of the fête, the word-of-mouth ethos that created a quintessential piece of art.

It's worth remembering peace begat from chaos, and "visiting a world you've dreamt about, where you aren't a misfit; you're not under the eye of authority or on the wrong side of the debate."


American Experience's 90-minute documentary "Woodstock" opens in select theaters on May 24, and airs on PBS on August 6.
Woodstock: Three Days That Defined a Generation
Featuring never-before-seen footage, filmmaker Barak Goodman examines the cultural, political and social ramifications of the 1969 Woodstock Music Festival in upstate New York.
Info
Runtime :: 96 mins
Release Date :: May 31, 2019
Language :: Silent
Country :: United States

Crew
Director :: Barak Goodman
Co-Director :: Jamila Ephron
Writer :: Barak Goodman
Writer :: Don Kleszy
Producer :: Jamila Ephron
Producer :: Barak Goodman
Producer :: Mark Samels
Film Editor :: Don Kleszy

Karin McKie is a writer, educator and activist at KarinMcKie.com
Comments on Facebook