Pasolini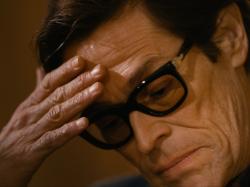 After premiering at the Venice and Toronto Film Festivals back in 2014 Abel Ferrara's movie "Pasolini" has, for some unknown reason, been stuck on a shelf somewhere until now. However, Kino Lorber, the distributor of indie and art house movies, has now released the film to select U.S. movie theaters.

It's the story of the last day of in the life of Pier Paolo Pasolini (Willem Dafoe), the celebrated queer Italian film director, poet, writer, and intellectual. He is in the middle of arguing with the censors about his latest controversial film, "Salò, or the 120 Days of Sodom," which many people want banned completely. The film is based on the Marquis de Sade's book, but set in the last days of the fascist rump state that formed in the northern Italian town of Salò after the fall of Mussolini.

On its release, the film was met with outrage for its graphic violence and degrading depictions of sexual violation.

Meanwhile, living at home with his elderly mother, Pasolini is writing his next movie. That's is, when he isn't out cruising the streets of Rome in his car, looking for young hustlers to pick up.

It's hardly a spoiler to mention that he is murdered, as that is was such a cause célèbre at the time. Ferrara opts for the original idea that Pasolini was killed by one of his hustler dates, whereas in reality his death was blamed on a homophobic attack, or possibly some sort of political revenge.

Ferrara assumes that everyone watching the story unfold is very familiar with the details of Pasolini's life, and in fact if you aren't, you'll find this uneven and convoluted film extremely difficult to follow. Dafoe is excellent as the moody genius, but aside from some wonderful scenes with his intellectual musings, we never get a real glimpse of of what makes the man tick.

Pasolini's own films, with their very shocking content, are very much an acquired taste, and so too is this very odd biopic on him.
Roger Walker-Dack, a passionate cinephile, is a freelance writer, critic and broadcaster and the author/editor of three blogs. He divides his time between Miami Beach and Provincetown.
Comments on Facebook