Frozen II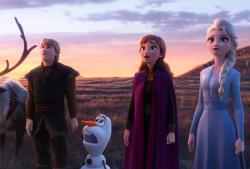 While some aspects of the sequel to Disney's surprise hit wobble on thin ice, "Frozen II" has a lot that works, and will certainly please Disney fans of all ages.

More inventive than anticipated, "Frozen II" picks up shortly after the original film, showing how sisters Anna (Kristen Bell) and Queen Elsa (Idina Menzel) are faring after Elsa got her icy powers under control. Anna still hangs out with snowman Olaf (Josh Gad), who is now blessed with Permafrost so he won't melt and is still dating the goofy hunk Kristoff (Jonathan Groff). They all live in the castle together where things are all status quo - until Elsa starts hearing a mysterious voice singing a familiar refrain that seems to be calling her to an adventure.

Soon enough, Elsa has released some forest spirits from a far-away enchanted forest, and she and her friends must go to find out what it all means.

The story calls back to a true-life adventure that Elsa and Anna's father told them. When he was young he went with his father and others to an enchanted forest where a tribe called the Northuldra lived. The Northuldra welcomed them to experience the magic of the forest, but when an attack occurred, the Northuldra and Arendellians went to war causing the forest to be locked in a forever autumn as a result.

Now, Elsa has somehow unlocked the forest. But why?

The journey Elsa goes on expands the mythology of her powers and allows for Anna to get a bit of power as well. So to speak. To be fair, it's a darker story than the original film, and it can get a bit talky, so children's attention spans might be tested. There's also a tragedy that might upset younger viewers — for about 15 minutes — until it gets resolved quite happily.

But while the story might be taking a darker turn, there are a lot of wondrous elements that continue to make this franchise sing. First of all, there's a lot more music this time around. Menzel gets two power ballads this time, and Bell gets her own toward the end of the film. Jonathan Groff finally gets his own couple of songs, and Gad, of course, gets another silly Olaf ditty to belt out. While none of the songs reach the heights of "Do You Wanna Build a Snowman?" or "Let it Go" (although there's a hilarious visual gag about that one), the songs are still pleasant and might grow on you.

The most memorable thing about "Frozen II" is the animation, which is absolutely glorious. Whether you are looking at gleaming vistas of snow, the magical delights of the enchanted forest in autumn, spring in Arendelle, or the turgid water of the sea, the film is stunning to look at. The songs might not completely click, but the images that wash over your eyes as you hear them make up for it.

The story, while a bit complicated at times, is still charming, and every character has his or her moment. It's still about girl power, and Elsa does come across a bit "me me me" at first, but it all comes together quite nicely. Kids will love Olaf and Kristoff, and the girls will like seeing their royal counterparts kicking some butt and saving the day.

"Frozen II" might not glisten like the original, but it's well worth putting on your warm winter clothes and planning a visit. (And keep your eyes peeled for the return of our favorite store owner hugging his husband in the crowd during a ceremony at the end. Can we get a gay prince or princess now?)
Frozen II: The IMAX 2D Experience
Elsa the Snow Queen has an extraordinary gift -- the power to create ice and snow. But no matter how happy she is to be surrounded by the people of Arendelle, Elsa finds herself strangely unsettled. After hearing a mysterious voice call out to her, Elsa travels to the enchanted forests and dark seas beyond her kingdom -- an adventure that soon turns into a journey of self-discovery.
Info
Runtime :: 103 mins
Release Date :: Nov 22, 2019
Language :: Silent
Country :: United States

Cast
Voice of Anna :: Kristen Bell
Voice of Elsa :: Idina Menzel
Voice of Olaf :: Josh Gad
Voice of Kristoff :: Jonathan Groff
Voice of Lieutenant Destin Mattias :: Sterling Brown
Voice of Queen Iduna :: Evan Wood
Voice of King Agnarr :: Alfred Molina
Voice of Yelana :: Martha Plimpton
Voice of Ryder :: Jason Ritter
Voice of Honeymaren :: Rachel Matthews
Voice of King Runeard :: Jeremy Sisto
Voice of Pabbie :: Ciarán Hinds
Voice of Guard/Northuldra Leader/Arendellian Soldier :: Alan Tudyk
Voice of Young Anna :: Hadley Gannaway
Voice of Young Elsa :: Mattea Conforti
Voice of Hans :: Santino Fontana

Crew
Director :: Chris Buck
Director :: Jennifer Lee
Director :: Jennifer Lee
Producer :: Peter Del Vecho
Executive Producer :: Byron Howard
Film Editor :: Jeff Draheim
Original Music :: Christophe Beck
Casting :: Jamie Sparer Roberts

Kevin Taft is a screenwriter/critic living in Los Angeles with an unnatural attachment to 'Star Wars' and the desire to be adopted by Steven Spielberg.
Comments on Facebook