Director Tom O'Horgan's 1974 adaptation of Eugène Ionesco's "Rhinoceros" is available on Blu-ray from Kino Lorber this week. The film may not be great at honoring the original text, but the Blu-ray transfer looks wonderful.
"Broken Flowers," the 2005 drama directed by Jim Jarmusch and starring Bill Murray, is now available on Blu-ray with a great release from Kino Lorber.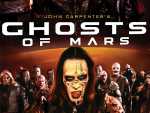 Now out on Blu-ray, you can decide for yourself whether John Carpenter's sci-fi thriller should be vilified or praised.
Hal Ashby's prescient social satire "The Landlord" is finally available on Blu-ray and it looks incredible with a new restoration by the folks at Kino Lorber. Pick this Blu-ray up immediately.
A year after 82 women protested en masse on the red carpet, the Cannes Film Festival on Monday defended its record on female filmmakers and for the first time divulged data on its selection process.
A co-screenplay writing credit goes to none other than horror master John Carpenter in this Faye Dunaway starring film, now out on Blu-ray in a mostly bare-bones edition from Mill Creek Entertainment.
"Avengers: Endgame" has topped the box office again in its third weekend in theaters.
The 72nd Cannes Film Festival, which opens Tuesday, will feature a lot of familiar faces, including Pedro Almodóvar, Ken Loach and Jim Jarmusch. But Cannes is also where a new cinematic voice can be catapulted onto cinema's world stage.
Director Gordon Douglas' remake of "Stagecoach" is finally available on Blu-ray. Twilight Time did a great job with the audio and visual presentation of this gorgeous film.
Director Jonathan Demme's unsung masterpiece "Melvin and Howard" is now available on Blu-ray from the good folks at Twilight Time. This release is a must-own.