Martha Wash — Off on a Cruise as One of the 'First Ladies of Disco'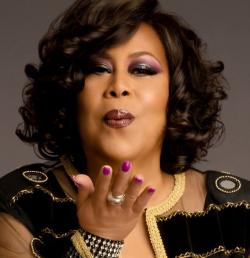 In 1976 Martha Wash auditioned for a back-up singing gig with a new singer, who went by the name Sylvester. They clicked, and Wash soon was singing back-up (along with Izora Armstead) with the pioneering, queer genius with hits as "Dance (Disco Heat)" and "You Make Me Feel (Mighty Real)." At the time the Rubenesque Wash and Armstead called themselves Two Tons O' Fun, which they changed to The Weather Girls in the early 1980s when they released their iconic hit, "It's Raining Men." The song went to #1 on the Dance chart, brought the pair a Grammy nomination and became an anthem for generations to come.

Wash went onto a successful solo career that continues to today, but it was a lawsuit she was involved in that will likely be how she is best-remembered in the music industry: when in the early 1990s she realized that other artists were lip-synching her vocals on videos, she sued producers and record labels for proper credit and compensation and was awarded. Her lawsuits led to legislation that protects artists, making vocal credit mandatory for all albums and music videos. Wash was said to have been replaced on the videos because of her size.

As her litigation went through the courts, Wash was busy "earning her nickname 'The Queen of Clubland,'" Rolling Stone wrote in a lengthy, 2014 profile. "She was the Midas of dance music, with eight songs featuring her vocals hitting Number One on Billboard's dance chart. 'Gonna Make You Sweat' trumped both the dance and R&B charts before becoming a multi-platinum hit and topping the Hot 100. When Billboard published its annual Top Songs of the Year, 'Gonna Make You Sweat' came in third behind Color Me Badd's 'I Wanna Sex You Up' and Bryan Adams' '(Everything I Do) I Do it for You.'"
Wash continued to record hits that topped the dance charts - both "Carry On" and "Give It To You" went to #1 on US dance charts in the early 1990s. In 1998 she released a compilation album and collaborated with RuPaul on a sequel to "It's Raining Men." In 2007 a remix of "Keep Your Body Working" again topped the charts. To celebrate the 20th anniversary of that song's initial release, Wash appeared on David Letterman's show in 2012, then released her second solo album, "Something Good." Then in 2015 Wash's manager started a new group, First Ladies of Disco, which brought Wash together with disco vocalists Evelyn "Champagne" King and Linda Clifford. Norma Jean Wright (from Chic) joined the group in 2019 replacing King. The group takes part in the upcoming Ultimate Disco Cruise that leaves Miami on February 10 and travels to Key West and the Bahamas for five days. The cruise also features such artists as The Jacksons, Harold Melvin and the Blue Notes, the Trammps, and Sister Sledge; and DJs Nicky Siano and Felix Hernandez with cruise host Deney Terrio (of "Dance Fever" fame).

In addition, Wash has long been involved in LGBTQ rights and HIV fundraising, performing at Pride events and fundraisers. And you can watch Wash on her YouTube series "10 Minutes with Martha Wash," a very unique and personal entertainment show, featuring an eclectic mix of interviews, musical performances, and fan Q&A.

"She merged a gospel voice into pop and dance music seamlessly," RuPaul told Rolling Stone when asked to describe her talent. "Her voice speaks to both the church and a pop ear and was built to cut through the bass of a dance club. The timbre of her voice is so distinctive and beautiful. A lot of gospel-based singers have come and gone in dance music, but she is the one."

EDGE caught up with Wash for a discussion about the Ultimate Disco Cruise and her career.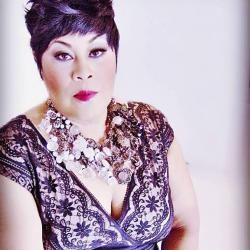 Why the cruise?
EDGE: What drew you to get involved with the Ultimate Disco Cruise?

Martha Wash: A few of my friends had done it in the past and all said that they had a blast, so we decided to do it too. A lot of the artists that are going to be on board I know and have worked with. It is a great way for the fans of these groups to come together and party.

EDGE: What a lineup! Who are you most excited to see perform?

Martha Wash: There are so many! I can't wait to get on board. There is no one in particular. Again, most of these people I have worked with at some point in my career. It is going to be really great to catch up with one another.

EDGE: On the ship, you will be performing as part of "The First Ladies of Disco." How did you get involved with the group?

Martha Wash: Our group was formed in 2015 by my manager, James Washington. In 2017, we embarked on our first tour called "First Ladies of Disco Show." It's me, Linda Clifford, and Norma Jean Wright. Our show is a high-energy show that is a retro celebration. We will be performing songs from the '70s, '80s, and '90s. We each do our own segments and then come together.
A surprise hit
EDGE: Are you a fan of cruise vacations?

Martha Wash: I've taken them and performed on them, but not a fan. I don't like the water.

EDGE: "It's Raining Men" was rejected by Donna Summer, Cher, and Diana Ross. Did you think it would become an immediate hit?

Martha Wash: No, absolutely not! I didn't think that people would buy it, but the writer, Paul Jabara, kept saying that it was going to be a hit. He begged us to do it and reluctantly we did. We recorded it in under-90 minutes and after we left, I honestly didn't think it would go anywhere. Paul really believed in the song and pushed it on the clubs. It was a hit in the clubs for about 6 months before radio stations started playing it. Then the gay community snatched it up and made it their anthem.

EDGE: If the sky would open up and start "Raining Men," who would you want to be pouring down all around you?

Martha Wash: Oh baby, there is only one man - Idris Elba.

EDGE: What impact has the LGBTQ community had on you and your career?

Martha Wash: I love my LGBTQ fans! They have always been my largest fan base and it goes all the way back to when I was singing backup for Sylvester. When I started singing with him he already had a huge gay following, because he himself was a gay man. After we went solo, the fan base continued to grow and follow me.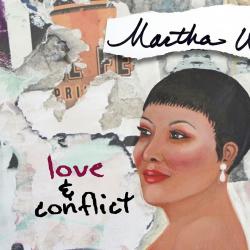 About 'Love & Conflict'
EDGE: You are responsible for some of the top-selling, most recognizable pop hits of the '80s and '90s, but is it true you studied opera?

Martha Wash: While I was in high school, I was learning classical music. I had a private tutor and she was teaching me arias. Unfortunately, she was an elderly lady and passed away, so I never moved forward with it after she passed away. I really enjoyed it too. I still have some of the music books that she had given me.

EDGE: What can you tell us about the upcoming release of your new CD "Love & Conflict"?

Martha Wash: It's a CD about people. You have the love side and you have the conflict side. The solo single right now is "There is Never Enough Money" and it deals with greed and power. We all have experienced this within ourselves and with others. For me, I believe that love can triumph over anything. Even the conflict. Sometimes, you have to endure the conflict to find the love. The CD is about friendship, recognition, positivity, and how you deal with people. It's really just music that I wanted to do as an indie artist.

EDGE: What's next for Martha Wash?

Martha Wash: After the disco cruise, I will be debuting "Love & Conflict" at South by Southwest (SXSW). I am really excited about it because it is my first time being at SXSW. I will be performing more shows with the First Ladies of Disco. I will also continue with my "10 Minutes with Martha Wash" show on YouTube. I am just happy to be working and I am happy for the continued love and support from my fans.
Watch the Weather Girls (featuring Martha Wash) perform "It's Raining Men."





Watch Martha Wash perform "I'm Not Coming Down (Tony Moran & Deep Influence Club Mix - Tony Mendes Video Re Edit)



Comments on Facebook