Pop Culturing: 'True Detective' Season 3 Looks Backwards and is Better Than Ever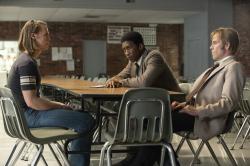 For its third season, HBO's "True Detective," which airs its first two episodes Sunday, looks back to its wildly popular Season 1 for the framework of its new eerie story. It's a smart decision, resulting in a rich and fascinating crime saga that is boosted by a stellar cast.
When the noir anthology series debuted in 2014 it became one of the most talked about shows that year. Season 1 stars Matthew McConaughey and Woody Harrelson as two cops on different ends of the spectrum: McConaughey's Rust Cohle is in constant existential agony, while Harrelson's Marty Hart is a goofy womanizing officer of the law who wants to clock in-and-out of his job. Told in two different timelines (one in the 1990s and one in present day), "True Detective" Season 1's core is a metaphysical brain-melting story about an occult serial killer. Season 1's captivating plot wasn't the only reason the show was on everyone's minds at the time; it was one of the first times this decade that A-list movie stars were on the small screen. On top of that, creator Nic Pizzolatto wrote every episode with Cary Joji Fukunaga impressively directing each one. This auteurist approach to creating television was the kickoff to the Peak TV era we know today and it sparked the kind of Reddit myster-box fandom that still thrives in today's TV landscape.
Pizzolatto's attempt at a second of "True Detective" was also one of the most talked about shows when it debuted a year later — but for all the wrong reasons. Like Season 1, it stars big names known for their work on the silver screen (Colin Farrell, Rachel McAdams, Taylor Kitsch and Vince Vaughn) and though Pizzolatto wrote most of the second season, it featured different directors, including "Fast and Furious" helmer Justin Lin. Topping Season 1 is no easy task -- Pizzolatto had years to write it and flesh out the story and its characters. With rumbling about Pizzolatto's being difficult on set and refusal to get help and work with other writers, it wasn't a surprise that critics had their knives out for Season 2. Though it has its defenders (the show has gone on to be ironically enjoyed as a campy albeit watchable mess), "True Detective" Season 2 is misguided at best. The muddled plot, bizarre performances and cringe-y writing made the second of the prestigious drama feel like a waterlogged, trashy supermarket novel that Pizzolatto found on the side of the road in a box marked "FREE" rather than a whip-smart work of pulp fiction.
Stephen Dorff, right, and Mahershala Ali, left, in "True Detective" Season 3. Photo credit: Warrick Page via HBO
Thankfully, for the third installment of "True Detective," Pizzolatto goes back to basics, focusing on what made Season 1 such a success. Like the first season, Season 3 is about a crime saga told in different timelines — this time the story is a tryptic of sorts, spanning over 30 years: the 1980s, 1990s and today. Season 3 also features a huge name, Oscar winner and recent Golden Globe winner Mahershala Ali as Detective Wayne Hays, who is investigating the disappearance of two children in the Arkansas Ozarks with his partner Roland West (an excellent Stephen Dorff).
What propels Season 3 to the best installment of "True Detective" yet is Ali's masterful turn. In what may be his best performance ever, Ali carries the show on his shoulders, selling Pizzolatto's writing so well it sounds Shakespearean at times (something the stars of Season 2 had trouble doing). Not unlike Kyle MacLachlan in "Twin Peaks: The Return," Ali is playing different versions of the same character (though more soberly in "True Detective" than MacLachlan's Douggie Jones): an aimless hard-boiled cop investigating the case in the 80s, a family man who left the police force but rejoins after the case of the missing kids is reopened in the 90s, and an elderly man losing his memory while being interviewed about the case for a TV show in the present. In each role, Ali brings nuance and depth to Wayne, a Vietnam veteran who becomes fixated on the unsolved mystery his entire life, throughout the three decades. Playing the elderly Wayne, however, Ali is truly amazing. In this stage, Wayne is suffering from dementia, forgetting the past, blurring his memories and having hallucinations. But Ali brings a tender touch to the role; Wayne is far from perfect but to watch someone spiral and see their life slip away over a bizarre mystery is fascinating and Ali does wonders in the role. What makes things more interesting — and tragic — is Wayne's wife Amelia (Carmen Ejogo), a school teacher turned true crime author, who writes about her husband and his ongoing search for the truth.
Like Season 1, "True Detective" Season 3 has an uneasiness embedded into it as Wayne and Roland dig into what happened to the brother and sister who vanished in the 1980s and question their parents Tom Purcell (Scoot McNairy) and Lucey Purcell (Mamie Gummer). That queasy tone is set by horror filmmaker Jeremy Saulnier ("Green Room," "Hold the Dark"), who expertly directs the first two episodes, giving the show the same kind of hazy and dreamy feeling Fukunaga did for Season 1. The third season kicks off with a hypnotic and creepy energy and Saulnier does a wonderful job at laying out the off-kilter new world we're entering.
Mahershala Ali in "True Detective" Season 3. Photo credit: Warrick Page via HBO
"True Detective" Season 3 is a textured show from top to bottom. Perhaps Pizzolatto got some help in the writers' room this time around; he's credited as the writer for each episode of Season 3 except episode four, where "Deadwood" scribe David Milch gets a co-writing credit and episode six where "Quarry" writer Graham Gordy is noted. But the new season deals with race in a considered way that may make viewers believe Pizzolatto wasn't the only writer involved when crafting these specific moments. The writing process in modern TV is still mystifying.
Speaking true to Rust Cohel's infamous "time is a flat circle," the third installment of "True Detective" mirrors the best parts of Season 1 and improves on it. It's confident and sharp while being wholly original and exciting. Pizzolatto moves past what made Season 2 a dud, crafting a tight and focused third season. It's a triumphant return to form and already likely one of the best shows of 2019.

This story is part of our special report titled "Pop Culturing." Want to read more? Here's the full list.
Comments on Facebook