Pop Culturing: 'Now Apocalypse,' on Starz, is a Candy Color Queer Noir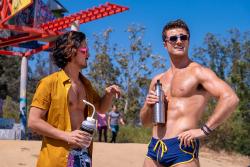 There's a lot going on in "Now Apocalypse," the new series from openly gay filmmaker Gregg Araki ("Mysterious Skin," "Kaboom") debuting Sunday on Starz. It's one-part modern millennial satire and one-part Los Angeles noir that's mixed with a conspiracy thriller and a raunchy 80s comedy. It's all rolled in a tight joint doused in queer expression. It's a lot to taken in.
"Now Apocalypse," where Steven Soderbergh serves as an executive producer, is singular in that only Araki could have been the person behind this bright, sex-driven romp. That is a feat, considering the sprawling TV landscape that offers thousands of options. Despite its delightful eccentricities, the show is more an admirable effort than a successful one, though you can't help root for it. Much like stoner L.A. noir "Under the Silver Lake," a film that has been delayed a few times over the last year starring Andrew Garfield and directed by "It Follows" helmer David Robert Mitchell (it's scheduled to hit theaters April 19), "Now Apocalypse" is set in the City of Angels and follows a group of incredibly horny young adults.
It mostly focuses on Ulysses (Avan Jogia), who, like the protagonist in "Under the Silver Lake," is an aimless pothead, unsure of his next move in life and not in a rush to get there. Self-describing as queer, Ulysses moved to L.A. from the Midwest with his straight best friend, super friendly hunk Ford (Beau Mirchoff). The pair live together and while Ulysses spends his time working odd jobs, getting laid with guys he met off Grindr and smoking weed, the airhead Ford is an aspiring screenwriter, who is dating the sultry Severine (Roxane Mesquida), a French scientist with a super top-secret job. There's also Carly (Kelli Berglund), Ulysses close friend, who is a struggling actress and does cam work to make rent.
Beau Mirchoff in a scene from Starz's "Now Apocalypse." Photo credit: Courtesy of Starz
There's not really a tangible plot to "Now Apocalypse." Threads orbit around Ulysses's world, chief among them the visions he's been having. He's unsure if he's smoking too much or actually experiencing uncanny moments but Ulysses is pretty confident lizard people are taking over the planet and he starts to get sucked into the teachings of a crockpot alien conspiracy theorist played by Henry Rollins. He thinks these freaky signs are connected to something larger... or it could just be too much weed.
Another story baked into Ulysses journey is a mystery man he met on a dating app who keeps ditching him. Gabriel ("Teen Wolf" star Tyler Posey) and Ulysses have a strong connection after meeting (and hooking up) one time but there's something strange going on with him — is the universe trying to tell Ulysses something or is it all in his head? Ulysses also stands by Ford's side when a shady movie producer takes notice of him and claims his script is aces (Ulysses has read the script and knows that's bull). He also lends a shoulder to Ford when Severine wants to open up their relationship, and he's there for Carly when she needs work/relationship advice. Everyone on the show is great but "Now Apocalypse" doesn't really take off until the fifth episode when the main characters surrounding Ulysses (Ford, Carly and Severine) are finally put together in the same room.
Like "Pose," "Now Apocalypse" pops on screen because it's not afraid of color. Fire engine reds, sun yellows and sky blues are electric and if you happen to be channel surfing (yes, a thing we rarely do anymore) there's a good chance the brightness among the saturated prestige TV palette (dark blues, washed out greys) will grab you — or it may be the sheer amount of nudity. Araki has never been afraid of sex in his films and that's no different on the small screen — there's a lot of nudity and graphic sex in "Now Apocalypse." But it's never used in a gross way; characters always have a reason for being naked and its played relatively natural. It's a free-loving and spiritual series, unafraid of what it is and what it wants to say, that has its freak flag raised high.
"Now Apocalypse" is not for everyone (if a scene involving a urinating fetish doesn't scare you away, stick around) but it fits into the genre/queer-ish focused fare Starz has turned out over the last few years ("The Girlfriend Experience," "Outlander," "Vida," "American Gods"). It aims for a lot and sometimes can only pull off a few of the themes it wants to explore. The show's tone can be confusing and sometimes the big haunting mystery hanging over Ulysses's head feels too goofy to be creepy or be an actual threat to the world, offsetting the high stakes presented in the show.
Nevertheless, Araki's series falls into a somewhat new TV trend, the half-hour series (think "Russian Doll" and "Homecoming"). Maybe a few years ago the show would have been a full 60 minutes but in 2019 it's smartly stripped back to a lean 30. "Now Apocalypse" is a mixed bag but it's easy to digest — like an edible brownie that may be a little too strong for your taste.

This story is part of our special report titled "Pop Culturing." Want to read more? Here's the full list.
Comments on Facebook