Watch: Netflix Teases 'Lucifer' Season 4 with Sexy New Clip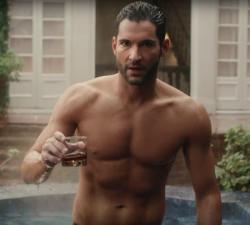 After being canceled by Fox last summer, Netflix saved the devilish drama "Lucifer" and this week announced its Season 4 air date with a sexy new clip featuring star Tom Ellis.

"Lucifer" will hit the streaming service on May 8 — or in 666 hours, as Netflix teased on social media.

In the 42-second clip, Ellis is seen slowly rising out of a pool and grabbing a drink. "He is risen," a title card says.

Here's what Netflix says Season 4 will be about:

Reeling from the aftermath of Chloe seeing his devil face, Lucifer faces a new challenge: Eve, the original sinner herself, is back. Does she want revenge for when he tempted her out of Eden oh so many years ago... or something else entirely?

Check out the sexy teaser below.
Comments on Facebook