Kinky Boots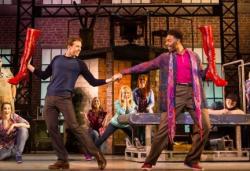 The 2013 Broadway hit "Kinky Boots" has strutted its way back in to town.
Based on the British Film of the same name, it tells the story of Charlie Price, who inherits his family's failing shoe factory. While in London searching for help to save the factory, Charlie rescues a London drag queen, Lola, from an assault; then in a moment of inspiration, asks Lola to collaborate with him on a line of high-heeled boots.
His small town factory workers are clearly skeptical of the new direction of the factory and struggle to accept Lola and her friends. Yet, eventually they do and the firm presents their new line at Milan's fashion week.
With a book by Harvey Fierstein and music by Cyndi Lauper, the show earned an impressive 13 Tony nominations and won six including Best Musical. And Ms. Lauper's win for best score made her the first woman to win the category as an individual.
It is an old fashioned, feel good musical where people get over their differences to come together and save the town. And while it has a couple of rousing dance in your seat numbers — "Everybody Say Yeah" and "Raise You Up/Just Be" — there is nothing terribly innovative or exceptional about it.
Like the show itself, the production for this year's tour is solid but unremarkable.
Connor Allston is well suited to the role of Charlie. Handsome and clean-cut, he personifies the "good boy" aesthetic. His singing and dancing are strong but the role itself doesn't allow for much of an acting range. The result is an enjoyable but somewhat one-note performance.
The larger issue with this tour is Kenneth Mosley as Lola. For all of his talent, Mr. Mosley just does not have the charisma to fill the theater with Lola's personality. She appears small of stature, and while Lola should always demand attention, she seems to disappear in the larger numbers.
Meanwhile, Lola's "girls" — the Angels — are the highlight of the production. With hair, heels, and attitude, their sheer presence dominates the stage and their energy elevates every number they are in.
While in many ways "Kinky Boots" seems designed by committee specifically for your average white middle-American theater goer, it is a fun evening of entertainment that almost everyone will enjoy.
"Kinky Boots" continues through May 12 at the Emerson Colonial Theatre, 106 Boylston Street, Boston, MA. For more information, visit the Broadway in Boston website.
Comments on Facebook