As the title suggests, The Irish Repertory Theatre's production of "Love, Noël", is comprised mostly of letters written by Coward throughout his long, distinguished career.
Voice-overs of reporters discussing contemporary political issues blare from the speakers at the start of The Acting Company's trimmed-down production of "Measure for Measure," locating one of Shakespeare's "problem plays" squarely in the here and now.
Over the years, the Broadway show about singer-songwriter Carole King has starred powerful singers in the title role. But until now it hasn't had one thing — a singer-songwriter.
A summer weekend in the Berkshires offers a wealth of cultural events — theater, music and art all within an hours drive. Dance and theater critic Iris Fanger reviews three performances from this past weekend.
The word-of-mouth-hit "Six" is headed to Broadway.
Harold Prince died yesterday at the age of 91. Here's a look -- thanks to YouTube -- of how he transformed the American musical.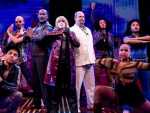 "Broadway Bounty Hunter" is terrific fun if you're game for a looney mixture of action, camp, and funky showtunes.
Chicago has declared 2019 as The Year of Theater — all the more reason to head to the Windy City for a dramatic getaway with design-centric digs at these two Kimpton hotels.
Harold Prince, a Broadway director and producer who pushed the boundaries of musical theater with such groundbreaking shows as "The Phantom of the Opera," ''Cabaret," ''Company" and "Sweeney Todd" and won a staggering 21 Tony Awards, has died.
A stellar cast of Broadway veterans graced the Hollywood Bowl stage this past weekend performing Steven Sondheim's classic musical "Into the Woods" for a crowd of over 17,000.