Cazwell's cool, still catchy: Hip-Hop hunk's back at Oasis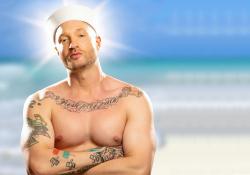 He's made ice cream trucks and lace pastel shorts sexy, he saw Beyoncé at Burger King, and now hip-hop gay hunk Cazwell returns to Oasis on Friday July 5 to simply say, "I Love You."

That's the title of Cazwell's new single, a plain-spoken tune about himself, sort of.

"After I made the beat, it just sounded like a love song, so I kind of let the song write itself," said Cazwell in an interview with the Bay Area Reporter.
Copyright Bay Area Reporter. For more articles from San Francisco's largest GLBT newspaper, visit
www.ebar.com
Comments on Facebook