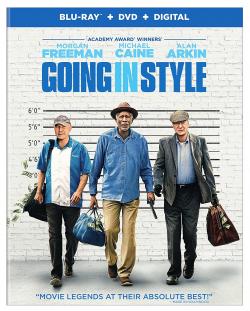 Oscar® winners Morgan Freeman ("Million Dollar Baby"), Michael Caine ("The Cider House Rules," "Hannah and Her Sisters") and Alan Arkin ("Little Miss Sunshine") team up as lifelong buddies Willie, Joe and Al, who decide to buck retirement and step off the straight-and-narrow for the first time in their lives when their pension fund becomes a corporate casualty, in director Zach Braff's comedy "Going in Style." Desperate to pay the bills and come through for their loved ones, the three risk it all by embarking on a daring bid to knock off the very bank that absconded with their money.

The film also stars two-time Oscar nominee Ann-Margret ("Tommy," "Carnal Knowledge") as Annie, a grocery cashier who's been checking Al out in more ways than one and Joey King ("Wish I Was Here"), as Joe's whip-smart granddaughter, Brooklyn. John Ortiz ("Silver Linings Playbook") stars as Jesus, a man of unspecified credentials who agrees to show the guys the ropes, and Peter Serafinowicz ("Guardians of the Galaxy") as Joe's former son-in-law, Murphy, whose pot clinic connections may finally prove useful; with Oscar nominee Matt Dillon ("Crash") as FBI Agent Hamer; and Christopher Lloyd ("Back to the Future" trilogy) as the guys' lodge buddy, Milton. Zach Braff ("Garden State") directs from a screenplay by Theodore Melfi ("Hidden Figures," "St. Vincent").

"Going in Style" will be available on Blu-ray for $29.98 on August 1, and includes the film in high definition on Blu-ray disc, a DVD and a digital version of the movie in Digital HD with UltraViolet*. Fans can also own "Going in Style" via purchase from digital retailers beginning July 11.

SPECIAL FEATURES:

· Deleted Scenes
· Director's Commentary by Zach Braff

#GoingInStyle

https://www.facebook.com/goinginstylemovie/

Enter to win!

Thanks for visiting EDGE!

Enter this contest
If you already have an account with EDGE, all you need to do is log in; we'll pull your address information from your account and simply ask you to verify it. If you do not yet have an account with us, register now! It's easy and free, and you'll never have to type in your personal information again. If you prefer to enter this information manually, you can use the manual entry link below.
Register
Manual Entry
Click here for contest rules.
* Please be aware that creating multiple accounts for the same person will disqualify you.