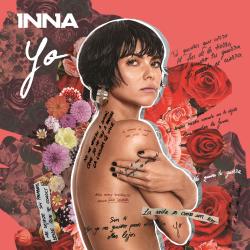 Global megastar INNA's much-anticipated debut Spanish album, YO (Me) is available now. INNA's instantly iconic album, which features the skin-baring star surrounded by a colorful collage of floral artwork and song lyrics on the cover, showcases 12 hot tracks and accompanying videos spotlighting the singer's songwriting talents and dance moves.

"YO" includes the hugely successful "Tu Manera," "Iguana," "Ra," and "Sin Ti," which combined have close to 36 million views on YouTube. "Tu Manera," (Your Way) which has racked over 25 million views since its March release.

This is INNA's first album release in Spanish and her sixth overall. As the album title suggests, INNA's focus is inward and living "La Vida" her way, as she tries to forget the one who broke her heart. The songstress, known for portraying a strong, sensual and empowered young woman, shows off those talents in the yet-to-be-released videos.

The video for "Te Vas" (You Go or You Leave) is a beautifully choreographed number that is part modern dance, part aerial acrobatics. It features the tension and sensuality of a couple still in love but ending a relationship and highlights INNA's strong pop vocals. Preview "Te Vas"

Next up is "Gitana" (Gypsy), a sensory, rhythmic groove starring a barefoot INNA's signature dance moves. Reminiscent of the energy and attitude she demonstrated in "Tu Manera," "Gitana" is sure to be a fan favorite.

"Gitana" is perfectly followed by the hot "Fuego" (Fire) which features guitar and a gypsy music-like beat. INNA showcases her rapping skills midway through this ode to lost love. In "La Vide Es Un Eco," INNA delivers a more defiant upbeat dance song.

The prolific performer has a huge global fan base, with more than 5 million subscribers and 3 billion views on YouTube. She has more than 11 million followers on Facebook, 2.6 million on Instagram and 1.5 million on Twitter. In April, she was featured in a Billboard magazine article about "Latin's New Generation of Bilingual Stars."

Fresh off of performances in multiple cities in Spain, Turkey, Egypt, and England, INNA will be performing in other countries, including Mexico and her native Romania, and several as-yet-to-be-named cities in the U.S. this summer.

Enter to win!

Thanks for visiting EDGE!

Enter this contest
If you already have an account with EDGE, all you need to do is log in; we'll pull your address information from your account and simply ask you to verify it. If you do not yet have an account with us, register now! It's easy and free, and you'll never have to type in your personal information again. If you prefer to enter this information manually, you can use the manual entry link below.
Register
Manual Entry
Click here for contest rules.
* Please be aware that creating multiple accounts for the same person will disqualify you.