Gay News: The Latest
Tens of thousands of embryos are stuck in limbo in fertility clinics, leftovers from pregnancy attempts and broken dreams of parenthood.
Advocates for gender equality are reckoning with what one called a "wonderful challenge" — four or more women running for president in 2020.
The Sackler family owns Purdue Pharma, the privately held drug company that has made billions from OxyContin, and Sacklers hold most of the seats on the board.
Multiple outlets have reported that Sony Music has dropped embattled R&B star R. Kelly from its roster.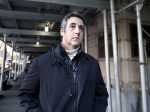 Special counsel Robert Mueller's office has issued a rare public statement disputing the accuracy of BuzzFeed News' report that said President Donald Trump's former attorney told Mueller that the president directed him to lie to Congress.
Former President George W. Bush treated his Secret Service detail to pizza to show his appreciation for their service without paychecks during the partial government shutdown.
President Donald Trump said he'll be making a "major announcement" on the government shutdown and the southern border on Saturday afternoon as the standstill over his border wall continues into its fifth week.
Actor Anthony Rapp said he came forward with sexual misconduct allegations against Kevin Spacey because he feared assaults could "keep happening" if he said nothing.
Wendy Williams is taking an extended break from her TV talk show to deal with health issues related to her immune system disorder, her family said Friday.
"High Maintenance" returns for its third season on HBO Sunday and it's a reminder that not all TV shows have to be dark and cynical in this overpopulated television landscape.
The Democratic chairmen of two House committees pledged to investigate a report that President Donald Trump directed his personal attorney Michael Cohen to lie to Congress about negotiations over a Moscow real estate project during the 2016 election.
This review for "Nassim," the lovely new theater piece playing at New York City Center's Stage II, isn't going to be very long, for the simple reason that it is a play best enjoyed without too much information.
Maryland lawmakers are exploring a faster way to approve sports betting this year, but it's unclear if they will be able to do it without voter approval in 2020.
How did the earliest land animals move? Scientists have used a nearly 300-million-year old fossil skeleton and preserved ancient footprints to create a moving robot model of prehistoric life.
Challenging the Trump administration on a top consumer issue, leading congressional liberals are proposing legislation that would radically reduce U.S. prescription drug bills by linking prices to lower costs in other countries.
Some new 2019 vehicles offer shoppers a way to get both all-wheel drive and great fuel economy.

Louis Vuitton's designer Virgil Abloh transported celebrity guests at Paris Fashion Week to the graffitied streets of New York in a dramatic menswear ode to Michael Jackson.
Even as the opioid epidemic continues, the toll of methamphetamine use, also known as meth or crystal meth, is on the rise, too.
The Japan National Tourism Organization announced that more than 30 million overseas travelers visited Japan in 2018, an all-time record.

The 20th edition of the GLAM Awards celebrated the best of NYC nightlife. Hosted by Ru Paul's Drag Race's Bob The Drag Queen and Peppermint, this was a night full of amazing performances, camaraderie and so much creativity!