Top Story
Organizers of the Staten Island St. Patrick's Day Parade say that the event is not a "sexual identification parade," and refuse to allow non-heterosexuals to partici...
"21 Bridges" is a mediocre cop movie driven by gripping action sequences that do nothing special or surprising.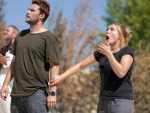 A breakdown of some of the best films of 2019 and where to stream them.
While taboos surrounding online dating are long gone, some of today's app users are sick of the endless swiping and virtual pen-paling that leads nowhere when it comes to long-term relationships.
There was a chorus outside the Broadway Theatre on Thursday at the opening night of a new revival of "West Side Story" but what was being sung was a protest chant.
Director Ivo van Hove strips much of its original creators' DNA with the force of a New York City street-sweeping truck. What rises from the gravel pulsates like a ticking time bomb.