The Return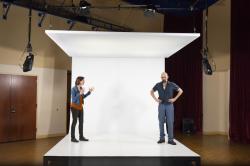 It seems to be a period of change in the Boston Theater scene. First Zeitgeist Stage closed and now, after nine seasons as one of the most ambitious and fearless theater companies in Boston, Israeli Stage is leaving us with "The Return."
A New England premiere by Hanna Eady and Edward Mast and directed by Artistic Director and Founder Guy Ben-Aharon it is, rather fittingly for a final production, a play about the past and the future.
In it, we experience an encounter between a Palestinian man (Nael Nacer) and an Israeli woman (Philana Mia). She is looking for a man she knew years before, he just wants to repair her car.
To provide any more plot information would do a disservice to the experience of this tense and intimate 70-minute work. Entire histories, both personal and societal, loom over each character. The twists and turns are emotional and unexpected.
Yet, this small little show takes on big and complex questions that we as humans need to start facing.
Are some things just too traumatic to move past? Can reparations ever be made for hurts inflicted on another person? Is naiveté ever a real excuse for our hurtful behavior? Are individuals truly capable of change?
In this bitterly divided world, do we still have the luxury of hope?
As the man and woman, Boston favorites Mr. Nacer and Ms. Mia give nuanced and utterly captivating performances. Few actors can stand silent and still and yet communicate pages of dialogue. This work in any less capable hands would be tedious and didactic, but here is dynamic and exhilarating.
Mr. Ben-Aharon's clear and decisive direction is supported by the perfectly minimalist design of Cristina Todesco (sets) and Jeff Adelberg (lights). It keeps the focus on the actors and the emotional cat and mouse that is taking place.
A production such as "The Return" reminds us of the gaping hole that will be left by Israeli Stage's closure. But they are certainly leaving us at the top of their game — and with a lot to ponder.
"The Return" continues through May 19 at Deane Hall, Calderwood Pavilion, Boston Center for the Arts, 527 Tremont Street, Boston, MA. For more information, visit the Israeli Stage website.
Comments on Facebook