1 thru 10 of 6470 Stories
Democratic leaders in Congress have argued that impeaching President Donald Trump is a political mistake as the 2020 election nears. Most of the candidates running to succeed him seem to agree, for now.
President Donald Trump held up and read from a sheet of paper in the Rose Garden this past week as he argued he's been hounded by investigators in the Russia probe for no reason.
A federal lawsuit filed Friday asks a judge to block an Alabama law that outlaws almost all abortions, the most far-reaching attempt by a conservative state to seek new restrictions on the procedure.
Armed forces veteran and openly gay presidential hopeful Pete Buttigieg took aim at President Trump on a range of issues - one of them being Trump's "bone spurs" deferment from service in Vietnam.
Sen. Elizabeth Warren calls Betsy DeVos the "worst secretary of education we've seen." Sen. Amy Klobuchar says DeVos "shouldn't be in her job." Beto O'Rourke's take on DeVos: "We can do better."
Openly gay Democratic 2020 hopeful Pete Buttigieg stood strong in the face of attacks from the Christian right during a May 22 Q&A event, declaring he does have things to repent for - but his devotion to husband Chasten is hardly one of them.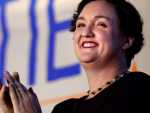 Freshman Rep. Katie Porter, a California Democrat, lawyer and expert in foreclosure law, asked Carson whether he knew the housing term "REO." Carson seemed to think she was referring to a popular chocolate sandwich cookie.
Reality has set in during the three weeks since President Donald Trump and Democratic congressional leaders agreed to work together on a $2 trillion package to invest in roads, bridges and broadband.
More Democrats are calling — and more loudly — for impeachment proceedings against President Donald Trump after his latest defiance of Congress by blocking his former White House lawyer from testifying.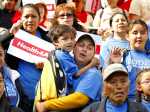 California lawmakers are considering proposals that would make the state the first in the nation to offer government-funded health care to adult immigrants living in the country illegally. But the decision on who to cover may come down to cost.
1 thru 10 of 6470 Stories