FASHION Movie Night | McQUEEN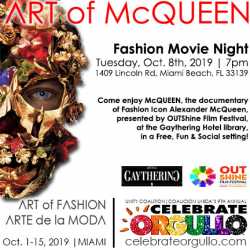 When:
Tuesday October 8 at 7:00PM

Where:
Gaythering Hotel, Miami Beach

Visit Website
About:

Fashion Movie Night | Tuesday, Oct. 8th
Come enjoy McQUEEN, the life docu of Fashion Icon
Alexander McQueen, presented by OUTShine Film Festival,
at the Gaythering Hotel library, in a Free, Fun & Social setting!

McQueen
1h 51min, 2018, R

A personal look at the extraordinary life, career and artistry of Alexander McQueen. Through exclusive interviews with his closest friends and family, recovered archives, exquisite visuals and music, "McQueen" is an authentic celebration and thrilling portrait of an inspired yet tortured fashion visionary.


"There is really nothing more fabulous than the Art of Gay Fashion, and the design/clothing industry would be literally nothing without the involvement of the LGBT community. From Alexander McQueen to Alexander Wang, and Karl Lagerfeld to Gianni Versace...The underground Houses from the 80's, Drag Culture, Club Kids, Boy George & RuPaul. Marlene Dietrich, Janelle Monae & Ellen DeGeneres.
Today, Hollywood California to Hollywood Florida, fashion continues to rule the runways, clubs and streets — and our community is always, Purse First."