ARTISTS Reception & Exhibit | MIGUEL RODEZ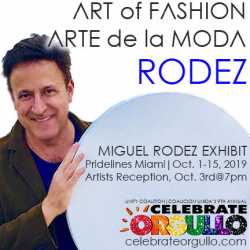 When:
Thursday October 3 at 7:00PM

Visit Website
About:

Miguel Rodez was born at Havana Cuba, but emigrated to the US when he was an adolescent. He studied History, Philosophy and English at the University of Miami and Law at Indiana University. This eventually led to a long
career in a quasi-judicial post as a civil servant in the field of human rights. Nevertheless, he managed to carve out a parallel career as a professional artist.

Now, he devotes himself exclusively to Art. Like most artists, his interest in art began in his childhood. Despite a brief educational stint at the High school of
Art and Design in New York City and one course in figure drawing at the University of Miami, he is essentially an autodidactic contemporary artist.

Rodez's body of work includes traditional portraits and abstracts. His artwork has been shown extensively, including at the Coral Gables Museum; St.
Thomas University; Florida International University's Green Library; Albizu University; Bacardi Headquarters; Bayfront Park; Miami Beach Botanical
Gardens; Dominican Republic's Palace of Fine Arts; Hialeah's Milander Center for the Arts and Entertainment; Wynwood Art District; Miami Design District; the Bird Road Art District, and other venues.

"When I arrived in the United States as a teenager in 1969, a cultural revolution was taking place in the country. While young men burned their military draft cards to protest the war in Vietnam, women burned their bras to protest against gender-based discrimination. Youths my age chose idols to look up to. Practically all of them chose famous musicians, sports figures, or controversial politicos. However, my interests lay the visual arts. Therefore, I idolized 20th Century artists. I owe my knowledge of painting to my visual analysis of their work. Therefore, when deciding on painting subject matter for my portrait series, I felt compelled to pay tribute to those whose legacy taught and inspired me. This indebtedness to their legacy is what motivates my current series of 20th Century masters, often blending certain aspects of their work with my own style. (I willing to paint portraits of other people on commission, but influential 20th Century artists is the key to my artist portrait series). For example, in my portrait of Salvador Dali, I chose to allude to hiss persistent preoccupation with his own mortality by creating an idealized paradise that he would find appealing, as it is drawn from themes Dali utilized in some of his most famous paintings."